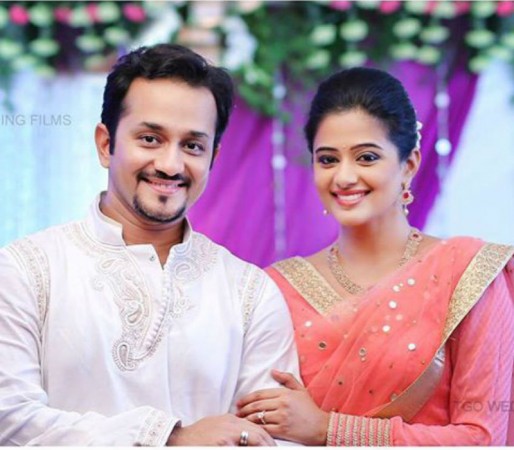 Popular actress Priyamani, who got engaged to Mustufa Raj on May 27, has been flooded with congratulatory messages from a host of South Indian celebs, including Ramya, Khushbu and Radikaa.
A day after her engagement, Priyamani took to Twitter to officially announce it. She revealed she got engaged to Mustufa Raj at a private function on Friday. Besides posting a photo of the event, the actress wrote on May 29: "Happy to announce that Mustufa Raj and I got engaged on Friday the 27th at a close and private function at home! [sic]"
Within hours of her announcement, Priyamani and Mustufa Raj were flooded with congratulatory messages from fans on her Twitter handle.
Priyamani has starred in films of five languages and made a huge number of friends in these industries. Soon after reading her post, many celebs congratulated her. Here are some of tghe messages from a few celebs:
Sushanth A: Congratulations @priyamani6 on your engagement with Mustufa! Wishing both of you all the very best!
Ramya aka Divya Spandana: .@priyamani6 & Mustafa Congratulations on your new journey together. Much love!
Khushbu Sundar: Wishing all the happiness in life gorgeous..@priyamani6 congratulations ❤❤
Radikaa Sarathkumar: @ray2092 @priyamani6 @mustufaraj Congrats Priya &mustafa wishing u loads of happiness
Charmme Kaur: Congratssssss sweetheart .. Soooo glad u found ur man
Genelia Deshmukh:@priyamani6 congratulations babe.. Wishing you a world of happiness
Chinmayi Sripaada: @priyamani6 congratulations girl!!! Wish you only happiness!
Vimala Raman: @priyamani6 awwww congrats diiiii to u and mussukuuuu ❤️
Shibani Dandekar: @priyamani6 congratulations beautiful! wish you so much like be and happiness ❤️
Harshika Poonacha: Congratulations to the beautiful person inside and out. @priyamani6 Wish you Lots and lots of Happiness God bless U
Suhail Chandhok: @priyamani6 Great news!!! CONGRATULATIONS :D Here's wishing you both love & laughter always! Hope you've been well...Speak soon!
SKN aka Shrinivas: @priyamani6 Hearty congratulations & best wishes. hope u continue acting Tks . Btw U and Mustufa ji R looking gr8. nice pair
Puri Jagannath: Congratssssss @priyamani6
Sharad Kelkar: @priyamani6 congrats
Sampoornesh: Andhala jantaku...Andhamaina jeevitham marintha andhamga sagalani korukuntu - Sadha @priyamani6 gari abhimani Sampoo
BVS Ravi: @priyamani6 best wishes Priya! God bless you with happiness and ever lasting joy of togetherness. U both make an amazing couple
Imran Sardhariya: Happy married life to u both n hav a sizzling partnership ahead...