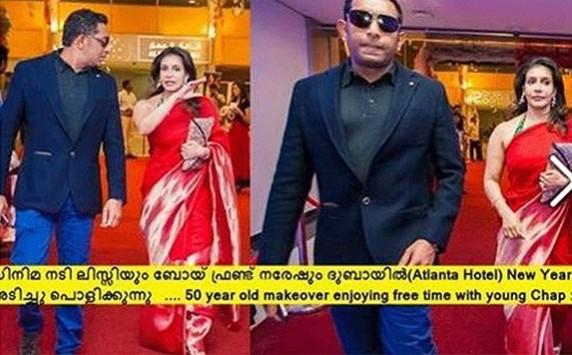 In a surprising move, director Priyadarshan, who has been in news recently for seeking divorce from his wife, actress Lissy, came forward to lend support to his wife.
Recently, a picture circulating online had Lissy with a much younger man in it. The note with the photo claimed that the man in the picture was Lissy's boyfriend and the couple was apparently having a good time in Dubai. The photo immediately went viral and came to a stage where it started affecting the reputation of the actress.
This is when Priyadashan took up the matter on his official Facebook page and said that the rumours were baseless. The director said that he had seen that picture before; it was taken during an award function in Dubai. He added that the photo and the note under it is the best example for the misuse of social media.
Soon after Priyadarshan's update, media and fans went into a frenzy about it. However, the director deleted his statement from the page and the reason for this withdrawal is still unknown.
Rumours of Lissy's alleged relationship with a young Malayalam actor, who is also part of CCL team, which is co-owned by the actress has been making news for quite some time. But the actress has chosen to maintain a dignified silence around any rumours surrounding her.
The Lisy-Priyadarshan divorce news was a major celebrity news in 2014. Though many reports blamed it on Priyadarshans's extra marital affairs, some sources close to the couple said that it was the ego clashes and differences around their Four Frames Sound Company which led to the divorce.
Priyadarshan and Lissy have two children, daughter Kalyani and son Sidharthan, both settled abroad.