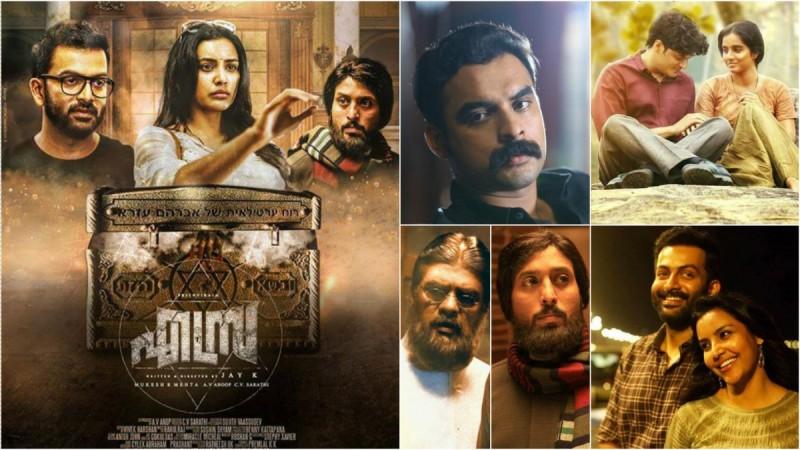 IBTimes India Rating: 3.5
What makes the Malayalam movie Ezra different from all other spooky stories we have come across is that it has a strong storyline that takes us back to the Jewish history in Kerala during the 1940's. It engages the audience with enough thrilling factors, suspense and romance, and has less "shocking" moments, unlike the horror movies that shock us every now and then making them cheap films.
What is Ezra movie about?
"Spoiler alert*
Ranjan Mathew (Prithviraj Sukumaran) relocates from Mumbai to Kochi along with his wife Priya Raghuram (Priya Anand) as he is assigned to a radioactive waste project in the city. They shift to an old villa in Kochi, and Priya, being an interior designer, transforms the entire house with an antique collection that also includes an old box with Jewish inscriptions.
Little did she know about the consequences that they would face after opening the box (that also becomes the reason for a person's death in the initial scenes of the film). It is Fr Samuel (Vijayaraghavan), who realises that the box is actually a dybbuk (malicious possessing spirit believed to be the dislocated soul of a dead person according to Jewish mythology). How the couple handles the supernatural powers with the help of a Jewish Rabbi (Sujith Sankar) and ACP Shafeer Ahammed (Tovino Thomas) are narrated in the horror thriller.
Performances
Prithviraj seems to be the right choice to play as Ranjan, with his natural performance and does not overdo the scary expressions. Priya has done a decent job and convincingly portrays the role of a possessed woman. The lip-syncing flaws of the actress have however been avoided in certain scenes by taking long shots. Babu Antony has done a different role, but wonder why he was given a very short stint in Ezra as Rabbi David Benyamin, while Sujith Sankar (Jimson in Maheshinte Prathikaram) gets more screen space to perform well in the second half of the movie as Rabbi Marques.
Kerala State Film Best Actor Award winning Sudev Nair plays a significant role in Ezra, but he seems to be typecast as a non-Malayali settled in Kerala with a different accent in his movies (like in Anarkali). Though there isn't much challenging for him to do, debutant Ann Sheetal, who plays as Rosy impresses the audience with her girl-next-door image and expressions, even without much dialogues. The climax exorcism scene has been performed well by the person who is actually possessed by the spirit of Abraham Ezra (not revealing who that person is as it is the suspense element in Ezra).
Highlights
Jay K's directorial skills needs a special mention making the content of Ezra refreshing for the Kerala audience. The flow of the storyline is smooth without giving much space for the audience to predict the climax in the initial stages. However, at a certain point of the narration, a few viewers might get an idea about what may happen next.
The 1940s period has been convincingly portrayed with sepia colour tone and the costume designers as well as the art team have worked well to take us back to that era. Sujith Vaassudev's cinematography, Vivek Harshan's crisp editing and the quality graphical works stand out as the USPs of Ezra, making it different from other spooky thrillers in Malayalam. Rahul Taj's Lailakame and Sushin Shyam's Thambiran songs are catchy and will remain in the mind even after leaving the theatre. As the makers have often claimed, Ezra is indeed first-of-its-kind in Mollywood.
Drawbacks
Sunny Wayn had dubbed Sujith's character Rabbi Marques, and the seriousness of this character seems to be missing with the voice. I felt the actor could have done it himself. I still do not understand why the maid was reacting so weirdly at times after shifting to Kochi. Also, the person who acted as Rosy's mother actually looked younger than her, and the make-up for that character needed an improvement.
*Spoiler alert* Also, a question has been haunting my mind since watching the movie - "How can a pregnant woman, who is seen jumping or falling down multiple times, still able to deliver a healthy child?" Yes! it happens only in movies, or may be due to supernatural powers even when she is not possessed. Nevertheless, Ezra might give a negative impression on Jews for a few viewers.
Final Verdict
Do not think Ezra to be a silly, cheap, horror entertainer, but it has a refreshing storyline with impressive performances of the actors that is narrated in the backdrop of Jewish history and inter-caste marriages in Kerala. The Prithviraj-starrer has to be watched in theatres with good sound system, and avoid making funny comments while watching it, so that the movie experience is not spoiled. And you will be "shocked" only a couple of times, while watching Ezra, so it can be watched once even if you are not a fan of horror movies.
So, here is the trailer of Ezra: