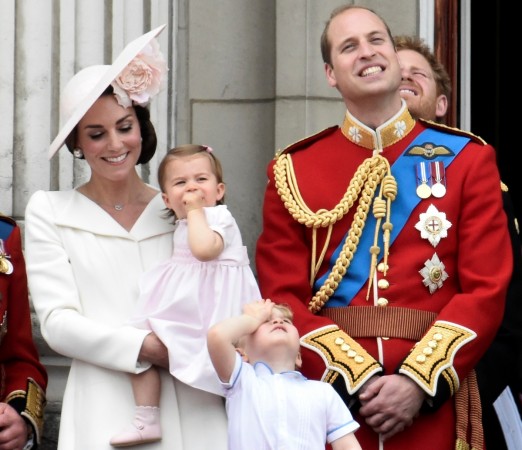 This September, Canada will welcome two special royal guests. Prince George and Princess Charlotte will accompany their parents, the Duke and Duchess of Cambridge, Prince William and Kate Middleton, on a royal tour of Canada.
"I am very pleased to confirm that they will bring their children, Prince George and Princess Charlotte, with them to Canada. They have received so many wonderful messages from Canadians since the birth of their children and look forward to having the chance to introduce their young family to the country," the spokesman at the Buckingham Palace said on Monday.
William and Kate will visit British Columbia and Yukon, Canada, during their one-week royal tour, which will begin on Sept. 24. This will be Kate and William's second royal tour of Canada and the royal couple is excited about it. William and Kate's first royal visit as a married couple was to Canada in 2011. And now Princess Charlotte's first royal visit is to Canada.
"This is a great opportunity for them to introduce their children to a major realm before things like school start to make these things difficult later on," the spokesman said. "They really enjoyed taking Prince George to New Zealand and Australia and are delighted to have this opportunity to introduce them to Canada."
William and Kate are grateful to Prime Minister Justin Trudeau for the invitation and supporting this tour. Kate and William will be busy during the visit with more than 30 engagements. The royal couple is also expected to meet many new people during their one-week visit.
William and Kate, along with George and Charlotte, will visit the country with 12 people, including three private secretaries, four communications staff, one tour secretary, one operation manager, one personal assistant, one hairdresser and one nanny, the spokesman said.
"The Duke and Duchess are delighted with the program. They cannot wait to get to Canada and start learning about new parts of the country that will play such an important part of their lives for many years to come."