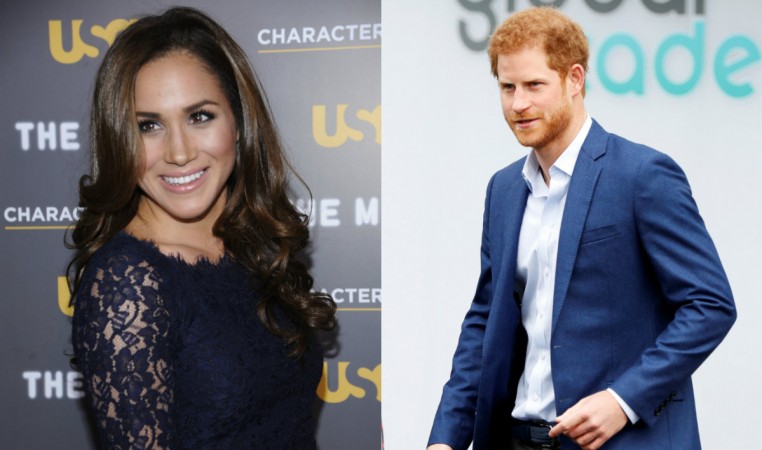 The royal fans are waiting for Prince Harry and Meghan Markle to tie the knot and looks like the royal wedding will happen sooner than expected. According to reports, the Suits actress and Harry are secretly engaged with Queen Elizabeth's approval.
Meghan and Harry have won over Queen, the most important person in the palace, and now they are reportedly planning for their wedding. According to OK! Magazine, Harry thought it would be difficult for him to convince the Queen, but to everyone's surprise she gave her blessing to the royal couple. She also reportedly told Harry that she wants him to be happy.
Also Read: Meghan Markle to quit Suits; will the actress follow Kate Middleton's footsteps?
"Harry allegedly got the Queen's approval, he was nervous to ask the Queen, even though they have a close relationship," the magazine quoted a source as saying
Not only Queen, but also Harry's elder brother Prince William and sister-in-law Kate Middleton are a big fan of Meghan. The royal family is happy that Meghan has helped Harry to open up about his mental health struggle.
"They're so proud of Harry. He's so happy and confident and they can't help but credit Meghan," the source said.
And now the palace is abuzz with the news of the much-awaited royal wedding. "Now that all of the family reportedly approves of the couple, the palace is abuzz with news that Harry and Meghan will be Duke and Duchess of Sussex!"
The couple and other family members are now planning for the marriage and if reports are to be believed then William will be Harry's best man. The alleged wedding might take place sometime in September.
William will be the best man, and Harry's already asked George to be ring-bearer," the source said.
Meanwhile, Gossip Cop has debunked OK! Magazine's report of the royal wedding and said the palace has not confirmed it.