Even as the Opposition parties in India continue to blame Narendra Modi for India's slow economic growth, American think tank Pew Research Center on Wednesday announced that the Prime Minister is by far the most popular leader in Indian politics.
Indian PM Narendra Modi most followed world leader on Instagram; Donald Trump ranks second
Pew Research Center declared their findings while releasing the results of their latest survey that was conducted between February 21 and March 10 and saw to the participation of around 2,464 respondents from India.
Who supports Modi the most
According to the survey, Modi's favourable score of 88 percent was 31 percentage points higher than for Congress president Sonia Gandhi, 30 points more than for Congress vice-president Rahul Gandhi and 49 points more than Delhi Chief Minister Arvind Kejriwal.
Interestingly, the American think tank said that Indians, aged between 18 and 29, show a slightly greater support for Modi than those aged 50 and over.
Though India's, GDP was 5.7 percent in the April-June quarter, the slowest growth since the first quarter of 2014, more than eight-in-ten say economic conditions are "good".
While at least nine-in-ten Indians in the southern Indian states of Andhra Pradesh, Karnataka, Tamil Nadu and Telangana, and in the western states of Maharashtra, Gujarat and Chhattisgarh, approve of Modi, eight-in-ten in the eastern India, like the citizens of Bihar, Jharkhand, Odisha and West Bengal, and the northern states like Delhi, Haryana, Madhya Pradesh, Punjab, Rajasthan and Uttar Pradesh continue to commend Modi and his contributions.
"Since 2015, Modi's popularity is relatively unchanged in the north, has risen in the west and the south, and is down slightly in the east," Pew said.
Overall, seven-in-ten Indians are now "satisfied" with the situations in India under Modi's governance especially Economic condition.
However, the only forte where Modi received low rankings were for his handling of communal tensions between Muslims and Hindus, which most of the participants did not regard as their prime concern.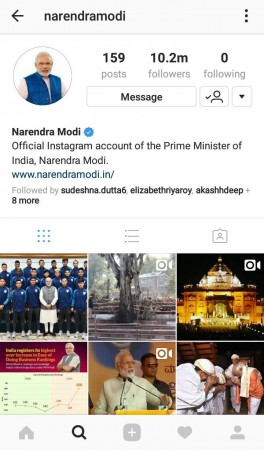 In fact, it's not just the people of India who hold Modi in high regard, the PM is also the world's most followed leader on Instagram, with a follower count of 10.2 million.