Prime Minister Narendra Modi has now become the world's most followed leader on the widely used mobile photo-sharing application Instagram, according to a study. The recent survey was posted by Twiplomacy, a Twitter account that analyses the social media usage of the heads of state, leaders of intergovernmental organisations (IGOs) and their diplomats.
Narendra Modi most followed Indian on Twitter in 2016; Deepika Padukone tops female category
While Modi topped the survey list with 6.8 million followers, Donald Trump emerged as the second most followed leader with 6.3 million followers. Though the results of the survey said that Modi has 6.8 million followers on Instagram, at the time of writing this article Modi's count of followers stood at 7 million, while that of Trump was 6.4 million.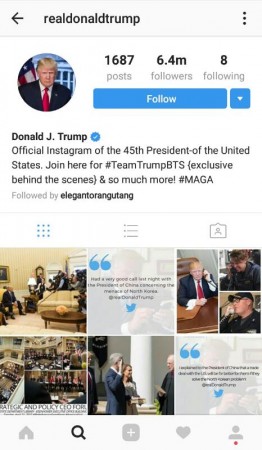 The global study, "World Leaders on Instagram," was conducted by public relations firm Burson-Marsteller, which analysed the activity of around 325 Instagram accounts of heads of states as well as government and foreign ministers over the last one year.
While Pope Francis emerged as the third most followed leader with 3.7 million followers, the White House clocked 3.4 million followers.
"Leaders around the world are creating online communications that convey global social and political context while also sharing a sense of personality and creativity. Leaders of business and all other sectors can learn from governments' use of Instagram," said Don Baer, CEO of Burson-Marsteller, in a statement.
While Modi has only 53 photos posted on his account, compared to the US president's 1028 posts, Modi has been named as the most effective world leader, considering that each of his posts receives an average of 223,000 interactions.
.@B_M @narendramodi @Pontifex @QueenRania @HHShkMohd @alexstubb Who are the most effective world leaders on #Instagram? @B_M https://t.co/bHTMUbcxJG pic.twitter.com/BGr5TOBuyG

— Twiplomacy (@Twiplomacy) April 12, 2017
Currently, Modi's account shows that he has 101 posts and Trump has 1687 posts. The Ministry of Foreign Affairs India has secured the sixth rank in the category of World's most active leaders.
.@B_M @narendramodi @Pontifex @QueenRania @HHShkMohd @alexstubb Who are the most active world leaders on #Instagram? B_M https://t.co/bHTMUbcxJG pic.twitter.com/furwzApqzk — Twiplomacy (@Twiplomacy) April 12, 2017