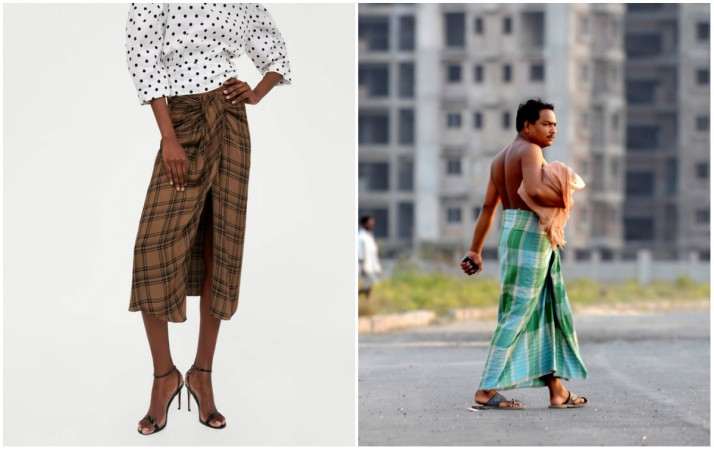 Galicia-based fast fashion retailer Zara has launched a lungi-styled skirt in the market and the price tag will leave you jaw-dropped.
Described as a "check mini skirt", Zara is selling this garment for £69.99, $89.90 and Rs 4990 in the United Kingdom, United States, and India respectively.
Also read: Deepika Padukone and James Corden perform lungi dance, while Vin Diesel auditions for Carpool Karaoke segment on The Late Late Show
In reality, the flowing skirt, which absolutely looks like a lungi, apparently costs around Rs 50-200 in India. The sarong-like attire is a popular fashion staple among men in many countries including India, Bangladesh, Pakistan, Nepal, Myanmar, Thailand and Cambodia.
The description reads on Zara's website, "Flowing skirt with draped detail in the front. Front slit detail at the hem. Zip fastening in the back hidden along the seam."
Unlike Zara's expensive brown check skirt, there are plenty of colours and designs easily available everywhere.
If you are looking for options, then The Lungi Wala is offering one for Rs 346 (£3.84).
Taking to Twitter, many users expressed their astonishment over such bizarre fashion fiasco.
One user wrote, "Fashion is mad. Rs 6000 for a lungi," while another said, "A £69.99 skirt from @ZARA that looks like a south Asian male skirt (lungi) that costs less than £1."
Me: "Hahahahahah what's with that dumbass £70 lungi from Zara. Pachaas rupaye ki milti hai. Yeh firangs bhi naa, complete idiots."

Starbucks' barista: "What'll you have, sir?"

Me: "One Turmeric Spiced Chai Latte"

— Akshar (@AksharPathak) January 30, 2018