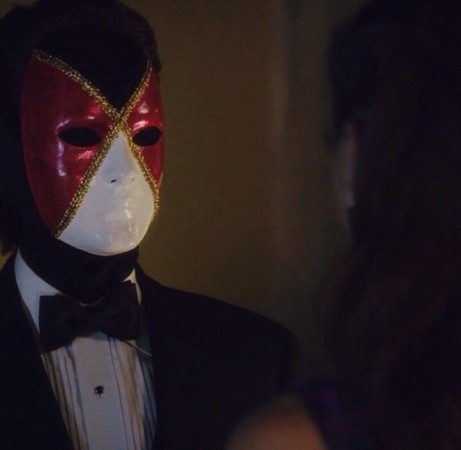 It has been weeks since season 5 of ABC Family's "Pretty Little Liars" ended, but fans are still receiving clues to A aka Charles' identity, thanks to the cast and crew of the teenage mystery drama.
A recent tweet by actress Holly Marie Combs, who plays Ella Montgomery on "Pretty Little Liars," wondering what Ezra's middle name is has once again given rise to speculations that Ezra and Charles could be the same person.
As of now, viewers have been told that the elusive A is called Charles and he somehow related to the DiLaurentis. Fans have been led to believe that Charles is Jason's twin and Alison's elder brother, but the motive behind Charles' decision to hurt the Liars is yet unknown.
But many viewers feel they have reasons to believe that Ezra (Ian Harding) is Charles, and one theory states that Ezra realises the truth about being adopted after he starts writing a book about his family to cope up with the divorce of his parents.
One theory on "Pretty Little Liars" wiki reads: "Ezra was writing a book. He says it started about his parents' divorce, his family, and his brother. My theory is that he started writing after his parents divorced to help in the healing proccess, but in his research stumbled across documents that proved his was adopted. The brother he is talking about is not the brother we saw, but Jason. They are both 24."
As for the motive, the fan theory states that Mona and Ezra have been working together and Mona was initially revealed as A only to keep the Liars from finding out the truth.
During his research to find out the circumstances that led to Alison's disappearance, Ezra succeeds in digging up all of Rosewood's secrets, which he stored in boxes that were shown in the previous episode.
"Ezra teams up with Mona using all of the secrets he has to bring his sister home and punish those involved with THE NIGHT. He also spends time trying to figure out his own mystery about why he was put up for adoption. The more he uncovers the darker the game gets. Mona keeps things in check, but as the liars get closer, he is forced to sacrifice Mona revealing her as A," the theory reads.
"Pretty Little Liars" returns to ABC Family this summer.