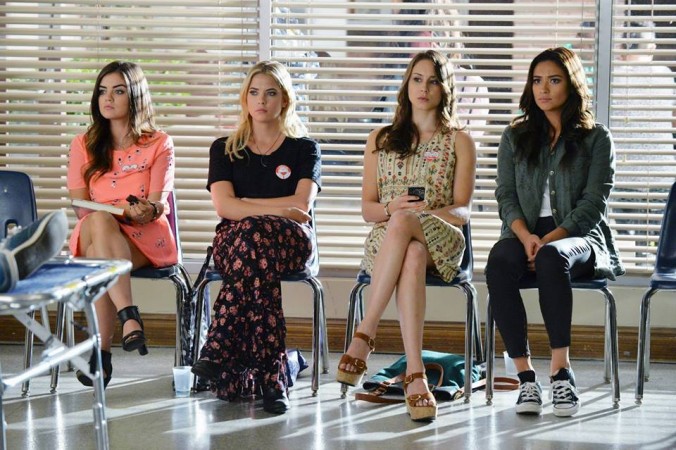 Season 6 of "Pretty Little Liars" kicked off on Tuesday with the episode "Game On, Charles" that saw the Liars escaping Charles' dollhouse and landing straight into the arms of their loved ones.
The first half of the season is going to see the Liars deal with the shock of what happened in the dollhouse, and embarking on a search to find out Charles' true identity. On Tuesday's episode, Spencer said Charles could be someone they are familiar with, and within the next nine episodes, he will be unmasked.
And after that things are going to get calm for the Liars, and one of them could even be walking down the aisle soon. The second half of the season is going to feature a time jump, after which one Liar will get married, teased executive producer Oliver Goldstick.
While it is too soon to say who could be the lucky one, speculations are rife it could be Aria and Ezra, as showrunner Marlene King recently revealed that they are soulmates.
"Ezra, Aria – they're soulmates," King told ETOnline. "Even when they're not together, they're soulmates. And sometimes it's hard for the audience to understand because they want them to be together all the time."
Meanwhile, actress Lucy Hale revealed that fans will get to see more of Aria-Ezra scenes, as she will now start opening up to Ezra.
"I like it now that he's aware of what's going on," Hale said. "Not just in their relationship but all the 'A' stuff and all the mystery and the secrets that they keep, she opens up to Ezra now."
Also, the other male leads -- Toby and Caleb -- will be more involved in the hunt for A's true identity. "I like that the guys are incorporated now because this now feels a little less like a secret and a more like an all-out, sort of battle against something that's really quite nasty," Ian Harding explained. "What's awesome about this is before 'A' was dangerous but we now see as very sinister and sadistic and violent."
"Pretty Little Liars" airs Tuesdays on ABC Family.