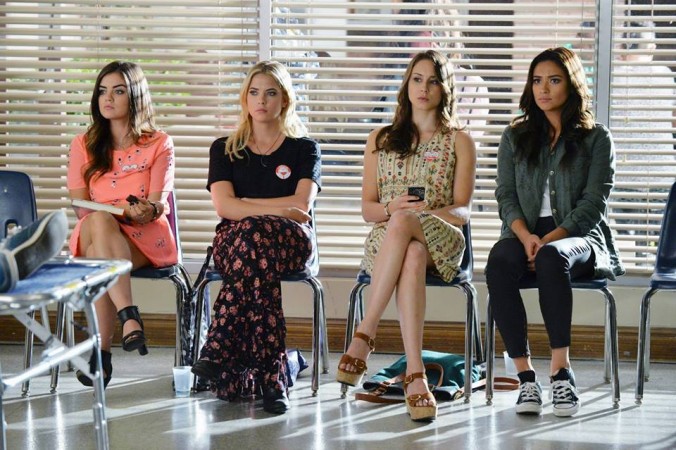 Aria's breakup with Ezra has paved way for her to pursue a relationship with Andrew, and their big kiss is just the beginning of what could be a major relationship in the series.
It is too soon to say what direction their relationship will go, but actor Brandon Jones said he could see it deepening as the show moves forward.
"I can say that Andrew and Aria's relationship does slowly grow in the wake of her breakup with Ezra. … You never know, if Aria and Andrew's relationship blossoms, maybe it will become one of those couples that people love to tweet about," he told TVLine.
However, fans of Aria and Ezra, the show's central couple, aren't too pleased with the development. Some feel that Aria shouldn't jump into a relationship with someone every time she and Ezra part ways.
This displeasure at seeing Aria with someone else might also be a factor why a section of fans feel that Andrew could be the elusive A who has wrecked havoc in Rosewood. And Jones believes fans might be on to something with this speculation.
"He does seem to show up at the right places at the right time, doesn't he? … I've actually gotten a lot of tweets about Andrew's name starting with "A," but you know what? Aria's does, too! At one point or another, everyone has been suspected of being "A" on the show. For now, what you see is what you get with Andrew," he said.
"Pretty Little Liars" is slowly inching towards its season 5 finale, and according to showrunner Marlene King, fans will be able to correctly guess the identity of the hooded figure after the finale episode titled "Welcome to the Dollhouse."
The season finale will air on 24 March and King said that it was when Mona was in Radley that A stole the game from her.
"Yes - you will absolutely know if A is one of the liars by the end of the finale," King recently revealed on her Twitter account. "You have to watch the show from season 3 premiere on to know who A is. A stole the game from Mona when she was at Radley."