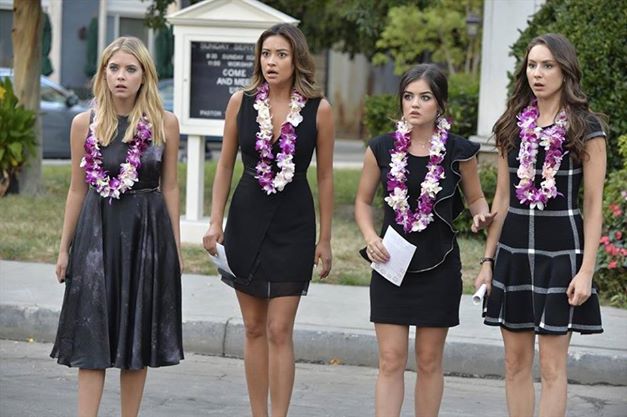 In addition to dealing with the problems created by the elusive "A", the liars will struggle to set in order other aspects of their personal lives.
Tuesday's episode will see Aria, Emily, Hanna and Spencer feeling the pressure that normal senior high school students face when deciding their careers, and not all of them are enthusiastic. Spencer, for one, is still avoiding the college topic and the next episode titled "Out, Damned Spot" will see her hanging out with Jonny and helping him with a new project.
For Hanna, the problem is financial. As per the synopsis, she finds out that "she has been turned down for financial aid and turns to her dad to help." And Aria will turn to Andrew for help to improve her grades, in the midst of dealing with her brother Mike, who has been acting sketchy since Mona's death.
The promo shows him hiding something mysterious into his jacket, and another segment shows Aria shouting at her brother asking him to explain his actions. "You know what Ali's capable of! Something is going on and you have to tell me what it is," Aria says in the video. The synopsis also notes that the girls' concerns about Mike increase after something goes wrong at the school blood drive.
Mike's shady antics in the previous episode had many wondering if he was part of the "A" Team. But actor Cody Christian told People that the character has been sorting out his issues on his own to prevent others from getting hurt.
"I don't know how much he knows or how little he knows, but I feel like he does understand the magnitude of the situation that the Liars are facing," said Christian. "So I think he just has made a decision on his own that he can't turn to his sister because it will ultimately hurt his sister more than it will hurt him, and I think that he feels he can't turn to anyone just because of the risk that he poses."
The actor added that fans will have to wait for the season finale to know the secret that Mike has been hiding, "and we're going to see how all of his behaviors are justified — or not justified, for that matter."