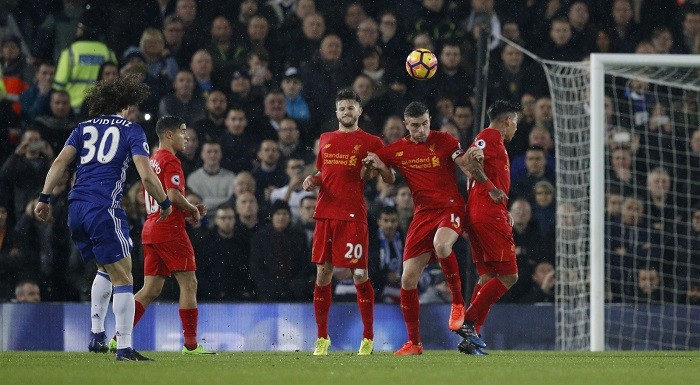 Tuesday was supposed to be the day that the "title contenders" would finally make some ground on the leaders Chelsea, the day that the Blues' runaway title bid would suffer a halt.
Premier League midweek schedule
However, at the end of it all, it was Chelsea who were left with a smile on their faces, despite dropping two points and missing a crucial penalty.
Liverpool salvaged a draw against Chelsea with a second half equaliser and a penalty save from Simon Mignolet, but with Arsenal doing an Arsenal against Watford and Tottenham failing to put on their scoring boots against Southampton, a lead that was eight points at the start of the day, bulged to nine.
While Manchester City and Manchester United only play on Wednesday, Chelsea's lead will remain at nine no matter what the results are from those games. From a six-way battle for the title, it is quickly becoming a one-horse race, with the rest scrapping for the remaining three Champions League places.
This was a chance for Liverpool to rid themselves of a nightmare January and get back on track in the Premier League title race. Instead, they conceded a poor goal in the first half, allowing David Luiz to take advantage of a sleeping Mignolet and a non-existent wall to plant his freekick into the net.
While the Reds came back in the second 45, with Georginio Wijnaldum netting the equaliser with a nice header, the home side did not have enough in them to breach Chelsea's defence one more time.
Indeed, Liverpool will consider themselves lucky to even pick up a point, with Mignolet saving Jurgen Klopp's blushes by making a smart save to deny Diego Costa, who himself had won the spotkick, from the penalty spot.
The Gunners are in one of those "Arsenal in crisis" spots again, after Arsene Wenger's team seemed to forget that you actually need to show up in the first half as well.
With Arsenal barely starting, Watford scored two goals inside 13 minutes to pretty much end the north London team's hopes of making a sustained title run.
Former Spurs man Younes Kaboul opened the scoring in the 10th minute, when his freekick deflected off Aaron Ramsey, who had a poor game, before leaving it in the 18th minute through injury.
Three minutes later, Troy Deeney was alive to a rebound and Arsenal were done.
Alex Iwobi made it 2-1 with a 58th minute strike, but after that Arsenal could barely muster up a chance of note – Lucas Perez coming the closest when his shot at an angle hit the woodwork – and Wenger was left to bemoan another one of those days.
It was also one of those days for Tottenham, who played out a goalless draw with Sunderland, missing opportunities in front of goal and one to reduce the gap to Chelsea.
"I'm a bit disappointed but I don't believe we were tired," Tottenham manager Mauricio Pochettino said. "We should have won. It was a massive opportunity to close the gap on Chelsea."
Results: Liverpool 1-1 Chelsea; Arsenal 1-2 Watford; Sunderland 0-0 Tottenham; Bournemouth 0-2 Crystal Palace; Burnley 1-0 Leicester City; Middlesbrough 1-1 West Bromwich Albion; Swansea City 2-1 Southampton.