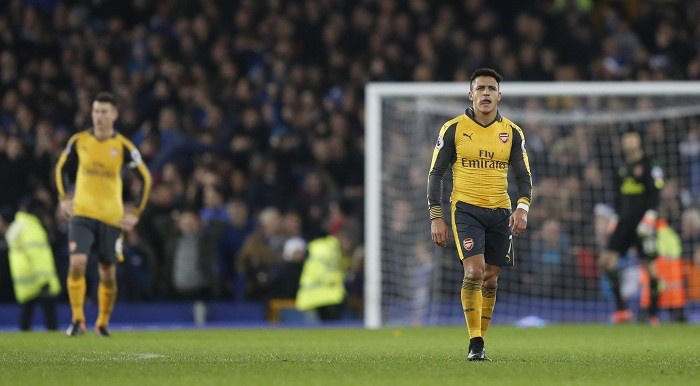 Arsenal's unbeaten run in the Premier League came to an end last night after Everton surprised everyone and came from behind to defeat the Gunners, thanks to goals from Seamus Coleman and Ashley Williams late in each half. Despite Alexis Sanchez giving Arsenal an early lead, they could not cope with Everton's physical side of the game as Arsenal were handed a first away defeat in the Premier League since late February.
Ronald Koeman made a lot of changes to the team that lost to Watford over the weekend. Enner Valencia and Aaron Lennon came into the starting 11 and Ross Barkley, who was disappointing in his last matches, came into the side too. Barkley was the difference maker as it was his corner kick that helped Williams get the winning goal.
Koeman was really impressed with his team's performance and will be hoping they can continue this form when they face Liverpool in the Merseyside Derby over the weekend.
"The key was how we played after 20 minutesm," Koeman said. "That was the team what we like to see, what the fans like to see – you go face to face, aggression, pressing, playing football and go for it. How we start the game, you don't win any game like that because the team was nervous. I can understand a lack of confidence but we played every ball back, we make it difficult for each other and then it is no chance against Arsenal. They are too good.
"The weakness is if you go face to face, you are aggressive, you run and you go. You need a bit of luck, what happens in the last 20 seconds, but we deserved the win. We came back with great character. If you show that aggression and commitment, it is difficult to beat Everton at Goodison Park."
Arsenal were nothing like the team that have impressed this season. Mesut Ozil missed a chance to give Arsenal the lead early on in the second half as he skied his shot over the goal post. Theo Walcott, Alex Iwobi and Alex Oxlade-Chamberlain, who have been really impressive for the Gunners in the last few matches, all failed to make a difference in the match. Alexis Sanchez looked like the only player who was willing to fight for the ball and make a difference in the match.
After the game, Arsene Wenger was quick to point fingers at referee Mark Clattenburg stating it was his error that led to Everton's winning goal.
"Of course it was no corner," Wenger said. "You could see it from our side that it was no corner, I think we have to live with the wrong decision and it doesn't explain why we do not head the ball after you know.
"I think I'm really disappointed because Clattenburg was in a really good position to see that play and he gave the ball out, and it's not the first time we've been unlucky with decisions this season. Overall I don't want to speak about the referee too much, it's not my problem."
Arsenal next play Manchester City at the Etihad Stadium on Sunday.