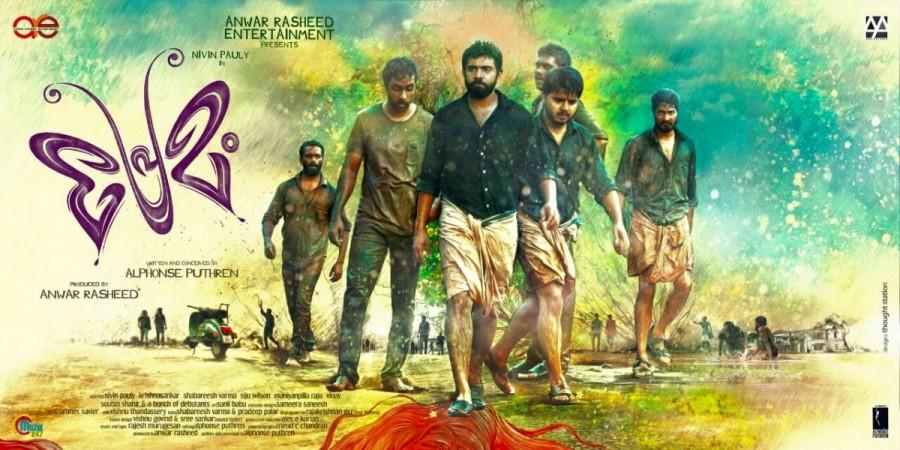 IBTIMES INDIA RATING: 5(fOR
If you think "Neram" was the best Nivin Pauly-Alphonse Putharan movie, it is time for you to rethink as their second project, "Premam", has exceeded all expectations of fans. "Premam" is entertainment at its best and the movie deserves nothing less than a standing ovation.
"Premam" will bring back some sweet-sour memories to any 90's kid. From the very first frame of the movie till the last word in the thanks card, everything about it will leave you with a smile on your face.
The director of the movie, Alphonse Putharen, had earlier said that the basic plot of the film does not massive twists or turns, but is a simple one that goes through the life of a man from his teenage days until he gets married.
What will impress you about the movie is the way Alphonse Putharen has narrated this simple story in the most engaging manner that probably no one else in Malayalam cinema has done till now. The magic lies in the way the shaped the character, his story and how he visualised the movie. The film is technically, aesthetically and visually flawless as an entertainer.
It begins with a 10th standard pass out, George (Nivin Pauly), who is in an interesting chapter of his life and further shows the different moods of his love life. He is not a perfect man like the one you see in a typical entertainer, but someone you can relate to, simply because at some point of your life, you would have seen things or thought like George.
With his performance in "Premam", it would be unfair to describe Nivin as just a good romantic actor, as after watching the film you can understand George like a friend, who shared his heartbreaks, failures and struggles. And, you feel good when he finds his soul mate.
In the film, George come across as a common man who talks, dances, laughs, and perceives himself as one of us and if an actor comes close to that, it only means he has reached the stature of a star.
There are two characters in this movie who drive George, his close friends Koya (Krishnan Shankar) and Shambu (Sabareesh). They help you to understand George, in fact they complete his life. They make his life a happening one and without them his life wouldn't have been the same; here lies the brilliance of director Alphonse as he brought various elements together to conceptualise his story and characters.
[Read Caught on Camera: Theatre Staff Sells Black Tickets for Nivin Pauly's 'Premam' in Bengaluru (VIDEO)]
Coming to the three leading ladies of the movie, Mary George (Anupama Parameshwaran), Malar (Sai Pallavi) and Celina (Madonna Sebastian), who are part of thr three phases of George's life. They come across to him as three seasons that evoke varied emotions in him. Mary was just an infatuation, Malar is his love and Celina his lifelong partner. His infatuation makes him weep like a child, his love makes him a stronger man and his life partner brings warmth to his life.
When you think about what is the most attracting aspect of the movie, the casting by the director will floor you. For example, the leading ladies of the movie, they are not perfect when it comes to their looks or characters. Mary is someone who enjoys fanfare around her, Malar is enigmatic and Celine has a different background.
The most endearing of all three romantic stories is the one with Malar. There is a magic to it that you don't want to miss. The last time you probably got lost and was left wounded for a romantic story was the one with Jayakrishnan and Clara in "Thoovanathumbikal" and there is this striking resemblance in the romance element when rain becomes a narrative of George–Malar love story.
Coming back to the casting, another person who will impress you with mass appeal is Renji Panicker, playing George's father. He takes the excitement level of the movie to a new height with a single scene and this time his fiery dialogue delivery style has reached close to those by Mammootty and Suresh Gopi (no pun intended).
The movie is a laughter riot as well and two people who drive the comedy aspects of the movie are Vinay Forrt as lecturer and Soubin Sahir as PT master. Each scene of their's brings roars of laughter in the theatre.
Equally good was the performance of Wilson Joseph as Joju, so was Jude Anthany Joseph as Dolly and not to forget, the director has also managed to come across as a decent actor with his guest appearance. There was also a bunch of new faces who gave brilliant performance in the best way possible.
Coming to the technicalities of the film, they are just flawless. From background score, songs, sound departments, art, cinematography, editing, costumes and others have come together to make Alphonse Putharen's dream a reality.
To conclude, "Premam" is nothing but entertainment at its best.