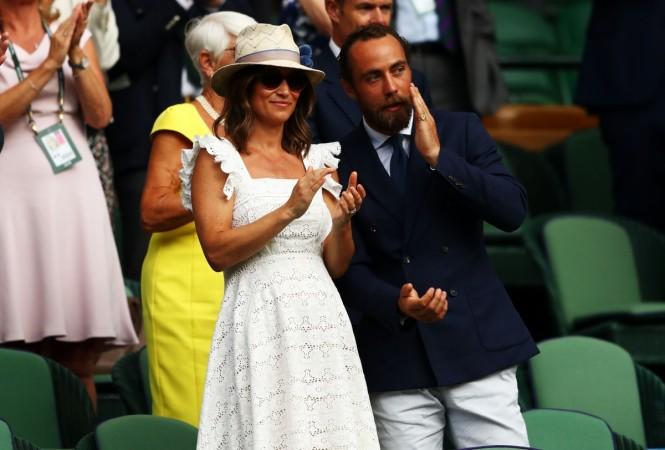 There is no doubt Kate Middleton is the epitome of regal style. The Duchess of Cambridge's wardrobe has the perfect outfit for every occasion. From summer dresses to outfits for royal engagements, Kate also gave us maternity style goals through her three pregnancies over the years.
Now, her sister Pippa Middleton is channelling Kate's style during her first pregnancy and we are unable to our eyes off her. The Middleton sister wore Kate's favourite maternity brand for her recent outing and she looked drop-dead gorgeous.
The 34-year-old stepped out running an errand wearing an Anna Mason outfit. She was spotted in London wearing a black floral off-the-shoulder dress walking her dog around. The royal family member's sister slipped into a pair of black wedges and wore a bright red cross-body handbag for her day out. She completed her look with a pair of black chic sunglasses.
Just Jared reports that while she was walking her dog, the pregnant Middleton family member stopped by the bank. Pippa has been flaunting her growing baby bump in several stylish outfits. Over the past month, she has been spotted at several events with her husband, James Matthews.
The couple was recently seen at the Wimbledon. When Pippa announced that she was pregnant, she revealed that unlike Kate, she did not suffer any morning sickness. A few weeks ago, Pippa penned down yet another piece explaining how she is exercising during her pregnancy. Writing for Waitrose Weekend magazine, Pippa revealed she's regularly played tennis during the two trimesters of her pregnancy.
"As I continue to play over the next few months, I've been advised to keep two feet on the ground when hitting strokes (to endure good pelvic valance) and to avoid sharp turns and quick movements, particularly as I approach the due date," she wrote.