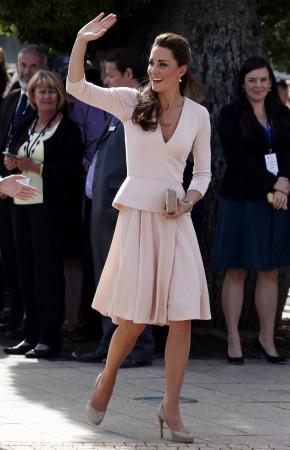 Kate Middleton, during her recent visit to The Fostering Network, reportedly told the foster mother of a little girl, Naya, that the latter is "chubbier" than her son Prince George.
The Duchess of Cambridge, who visited the Foster care as part of her official engagement on 16 January, was particularly delighted to meet the six-year-old. She bonded with her and even appreciated her hair, which was neatly tied with colourful bands.
"Sweetie pie. I love your hair," said the Duchess to the toddler. Naya has been living under the care of a single mom, Tigest Tesfamichael, for the last four months. She was clearly happy to meet Middleton.
Meanwhile, the Duchess took the tour of the foster home and understood the intricacies of the organisation. She had discussions with the caretakers and social workers and also enjoyed tea and biscuits with them. "I've heard a huge amount about fostering. It's really great for me to have an opportunity to speak to you," she said to people of the organisation, according to US Weekly.
The Fostering Network aims to build lives of the 63,000 children who have been staying with adoptive families across the United Kingdom. The children are apparently in acute need of families who can provide them a safe home and secure future. These children are often victims of physical and emotional abuse, domestic violence and other atrocities, further reported the Website.
Middleton also received gifts and flowers from the children. Her visit reportedly had a positive impact on the kids. "A visit from The Duchess helps to shine a spotlight on fostering and the need for more foster carers. We are very grateful to her for her interest, and know that the foster carers and care leavers attending our event today are excited to be sharing their experiences and stories with her," said Lucy Peake, director of development at The Fostering Network, as reported by US Weekly.
Middleton's visit to the Foster home was recounted on Kensington Palace's Twitter account. Prince William's wife is currently pregnant with her second child who is expected to be born in March, this year.