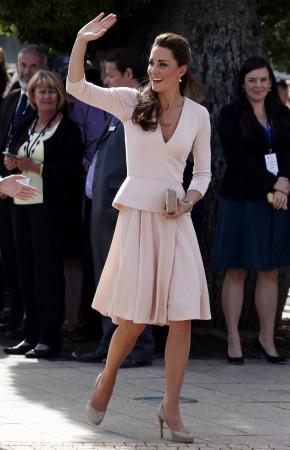 Kate Middleton recently went on a shopping spree in London. The Duchess who turned 33 last week indulged in some retail therapy at John Lewis department store in Chelsea and reportedly shopped for an hour. She was later spotted carrying a bunch of bags.
"She was with two security guards but Kate carried all of her own bags and they did not look light," a source told E!online. Middleton dressed her baby bump in a white overcoat, knee length boots and a grey scarf. She kept her look subtle in a loose ponytail and minimal make-up.
Middleton is reportedly fond of shopping and has been spotted taking various shopping trips in the town. Meanwhile, this is the first time that the Duchess has made a public appearance post-Christmas celebrations. She is also expected to attend a series of events in the upcoming week, which includes a visit to the Barlby Primary School in London on Thursday and The Fostering Network on Friday.
Prince William's wife is currently in her last trimester and is understood to be updating her maternity wardrobe. She has been buying some exquisite maternity wear from popular brand Séraphine.
"She just orders like a regular customer, we have an online service, we deliver it at her home. It happens to be a palace but otherwise it's just like any other regular customer. She has a lot of functions where she needs something extremely elegant and formal, which is not necessarily what people would wear on a daily basis, so it's not part of our range. And we love the idea of giving her some unique piece that still reflects the brand," founder Cecile Reinaud told E!Online.
Middleton will welcome the second royal baby in March. She and Prince William are parents to 18-months-old Prince George. They are currently staying at their countryside home in Norfolk and plan to raise their kids away from the hustle-bustle of London city.