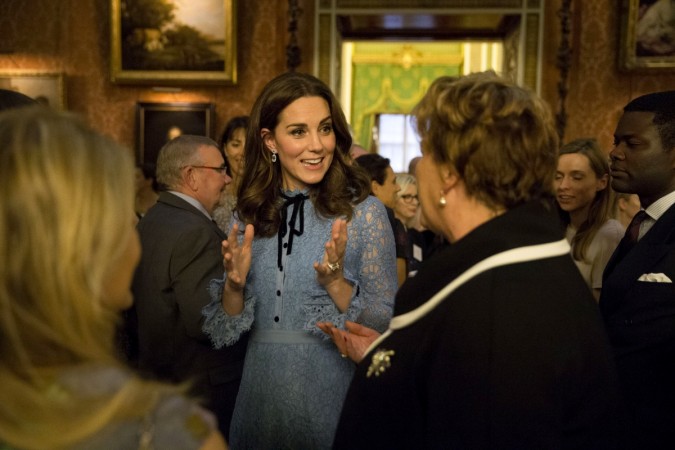 The Duchess of Cambridge, Kate Middleton, on Tuesday made her first public appearance after the pregnancy announcement, but she was 'bump shamed'.
She attended a reception for World Mental Health Day at Buckingham Palace. Despite battling the rare morning sickness – hyperemesis gravidarum – she looked gorgeous in $1,442 blue lace Temperley London dress and even flaunted her baby bump.
But several criticised her because she looked too thin. Kensington Palace shared photos of the Duke and Duchess on Instagram and soon it garnered comments. While some praised Kate for attending the event despite the morning sickness, some called her "too thin."
"I can't believe she's pregnant, she looks too thin," one user commented.
"Is she pregnant?" another user asked.
Another user said she is "emaciated" and "severely malnourished anorexic." He further said that there is "no such thing as morning sickness the media claimed she had."
However, several defended Kate and commented in support of her. "People are horrible! I suffered from hyperemesis 5 times! I had big babies but did not show until really late," one comment read.
"The irony of a post reflecting on Princess Kates contribution to world mental health becoming a forum for uneducated comments from individuals who use it to criticize her body and pregnancy. This type of behaviour from this kind of person is part of the reason that people who have been unjustly treated this way develop mental health issues. At least I can be reassured the Princess would never trifle herself with reading ignorant Instagram comments," another said.
An expert also spoke in support of Kate and said that 'bump shaming' can cause anxiety for pregnant women.
"Bump shaming can really damage a woman's body confidence and cause needless worry and anxiety over the health of their baby. It's important to remember that the bump size is just the size of the baby's 'packaging' and has no bearing on the size of their baby," Lesley Gilchrist, practising midwife and co-founder of My Expert Midwife, told Mail Online.