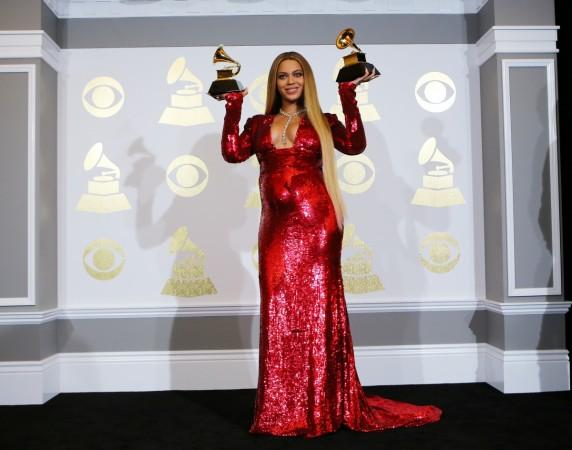 Beyonce continues to slay her pregnancy style. The Formation songstress, who is heavily pregnant with twins, recently flaunted her baby bump at her mom Tina Knowles Lawson's Wearable Art Gala at the California African American Museum in Los Angeles.
The 35-year-old singer attended the gala along with her husband Jay Z and daughter Blue Ivy. The mom-to-be sported a red long-sleeved dress with a plunging neckline, designed by Stephanie Costello for Stello. She accentuated her look with a gorgeous headdress adorned with butterflies, flowers and dragonflies.
The Formation songstress was also accompanied by her sister Solange Knowles, mom Tina Lawson and her husband Richard at the event. Queen Bey's Destiny's Child bandmates Michelle Williams and Kelly Rowland were also present at the gala.
The Grammy winner singer took to Instagram to share a few pictures from the event. She captioned one picture, "Inaugural Wearable Art Gala in support of WACO Theater Center," in which she is seen wearing her beautiful red gown.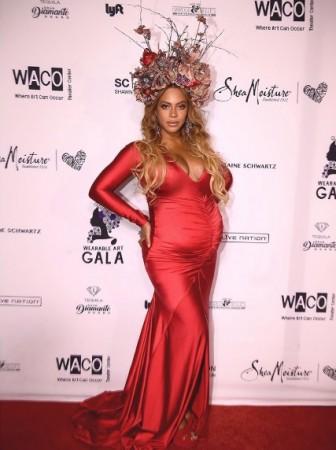 The Sorry songstress also shared another beautiful picture with her family and captioned it: "I am super proud of my beautiful mother for creating such an awesome event. Close to $1 million was raised for The WACO Theater Center to benefit young people through their mentorship programs and the arts. Mom, you inspire us all to be generous, selfless, positive, to have empathy, to love and to praise creativity in the world. It brought tears to my eyes to be a witness to what you and Richard have created together. WACO is a safe place truly Where Art Can Occur. I love you."
Talking about how excited Beyonce is about her pregnancy, Lawson told, "She's a really good mom. Really patient and kind." And while asked if she is happy for her daughter, Lawson said: "I'm so excited. I can't wait."
An insider close to Beyonce's family told PEOPLE, "They wanted another child and after a few years of trying, it's a great feeling. Beyoncé's very happy."