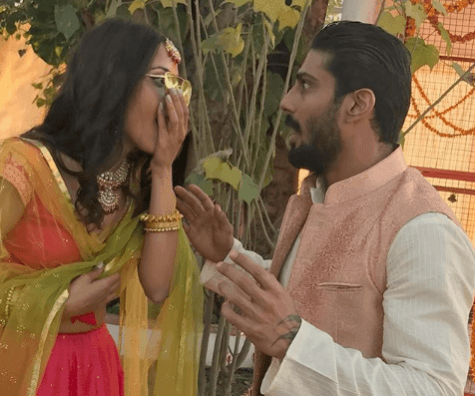 Prateik Babbar got engaged to his long-time girlfriend Sanya Sagar on January 22. Who is Sanya Sagar? Well, she is a writer-director-editor and has known Prateik for almost eight years.
In Pics: Prateik Babbar and Sanya Sagar engagement pics
Talking to Mumbai Mirror exclusively, Prateik said: "Sanya and I, along with our families, decided that something as pure as love should be solemnised on an auspicious day and what better day than Basant Panchami. She's the best partner I could have asked for. It didn't take me long to figure out that she was the one for me. I know it sounds clichéd, but I can't stop counting my blessings and thanking God for all the good that is happening in my life."
It was reported earlier that Prateik had proposed to Sanya in December last year during a music festival in Goa. Their engagement is a pleasant surprise for his fans. The wedding date is still not out yet, but Prateik revealed they plan to host separate functions in New Delhi, Lucknow and Mumbai.
Prateik told Mirror: "But we want to enjoy this courtship period for a year or two; Sanya will shuttle between Mumbai and Lucknow. We haven't thought about the wedding yet, but if I had my way, I would love a beach wedding or a simple temple wedding. I've been mentally ready for marriage for a while now as I believe it gives a relationship substance. Nothing will change, life will only get even more beautiful."
Talking about his mother Smita Patil, Prateik said: "I constantly feel her presence, she is my guardian angel and guiding force."
Will Prateik work with Sanya professionally? Here's what he told Mirror: "It is on our minds. It will be great to be a creatively in-sync couple."
An interesting fact is that Prateik's father Raj Babbar and Sanya's father Pawan Sagar are both in politics. So, is politics on his mind next?
The actor said: "Not in the near future but who knows what tomorrow brings. I am not a diplomatic person so politics seems a little far-fetched for me right now. I want to give my 200 percent to films."
Sanya returned from London in January last year having completed a year-long post-graduate course from Goldsmiths, University of London, with specialisation in film.
Prateik has successfully battled drug addiction. In an interview, he said: "I realised I hadn't looked myself in the eye ever since I started getting high. Following multiple episodes that made me feel like a miserable prisoner of drugs, I decided to finally seek professional help. My family refused to see their loved one attempt to slowly kill himself, and encouraged me to sign up for rehab."
On the professional front, Prateik will be seen next in Ahmed Khan's Baaghi 2 with Tiger Shroff and in Anubhav Sinha's Taapsee Pannu-starrer Mulk.