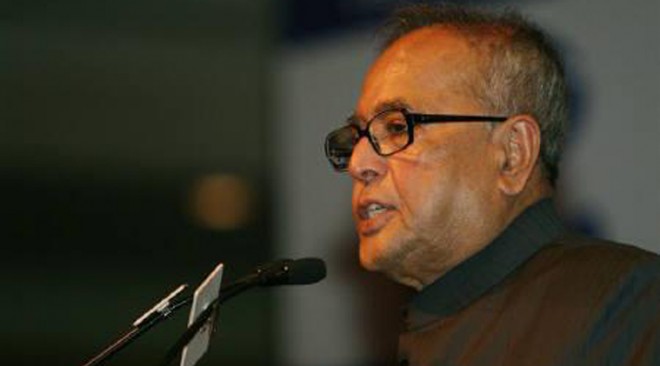 Update: 11.54 a.m. IST -- Praveen Chandra, a leading cardiologist, was awarded the Padma Shri for his contribution in the field of medicine Monday. Bhikhudan Gadhvi and K. Laxma Goud were awarded Padma Shri for their contribution to art at the Rashtrapati Bhavan, where Prime Minsiter Narendra Modi was also present.
Original Story -- As many as 56 eminent personalities of the 112 awardees received the Padma Awards from President Pranab Mukherjee at the Rashtrapati Bhavan Monday. Among the winners are late Dhirubhai Ambani, Priyanka Chopra and Rajinikanth.
Of the 112 people, 10 will receive the Padma Vibhushan, the second highest civilian award, 19 will be awarded Padma Bhushan and 83 will be conferred Padma Shri. Of these awards, 19 will be given to women, including Priyanka Chopra, Girija Devi, Saina Nehwal, and Sania Mirza. As many as 10 people who fall under the categories of foreigners, non-resident Indians and people of Indian origin will also be awarded.
Ambani and three other individuals were awarded posthumously.
Among the first 56 people who received the awards Monday are late Dhirubhai Ambani, founder of Reliance Industries, actors Ajay Devgn and Anupam Kher, filmmaker Madhur Bhandarkar, spiritual guru Sri Sri Ravi Shankar, whose event World Culture Festival was recently in the news for the environmental damage done to the banks of Yamuna River in Delhi, and Badminton champion Saina Nehwal.
Former Comptroller and Auditor General Vinod Rai received the Padma Bhushan under the category of civil service. Imitiaz Qureshi, a master chef, who was born into the family of chefs for the Mughal emperors of India received the Padma Shri.
Two people, architect Hafeez Contractor and business tycoon Shapoorji Palonji Mistry, related to real estate, received the Padma Bhushan.
Avinash Kamalakar Dixit, an Indian-American economist, John J. F. Sherrerd '52 University Professor of Economics Emeritus at Princeton University, who has been touted as Nobel-worthy for many years now, was conferred the second highest honour after Bharat Ratna, Padma Vibhushan under the category of literature and education.
The Padma awards are given to those known for "distinguished" work or service.
To see the complete list of 112 Padma awardees, click here.
To watch the award ceremony live, click here.