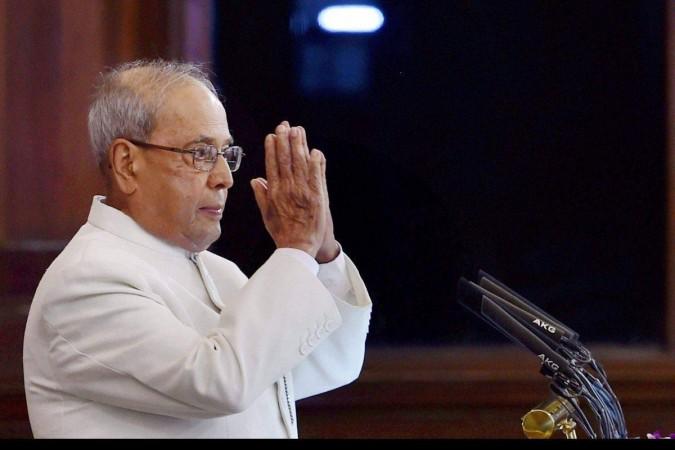 Former President of India Pranab Mukherjee passed away on Monday, August 31, after a prolonged illness. He was 84.
Taking to Twitter, Pranab Mukherjee's son Abhijit announced the news. He wrote, "With a Heavy Heart , this is to inform you that my father Shri #PranabMukherjee has just passed away inspite of the best efforts of Doctors of RR Hospital & prayers ,duas & prarthanas from people throughout India ! I thank all of You Folded hands."
Following the news of his death, social media has been deluged by tributes for Bharat Ratna Pranab Mukherjee, with heartfelt condolences pouring in for the veteran Congressman.
Prime Minister Narendra Modi wrote
India grieves the passing away of Bharat Ratna Shri Pranab Mukherjee. He has left an indelible mark on the development trajectory of our nation. A scholar par excellence, a towering statesman, he was admired across the political spectrum and by all sections of society.
During his political career that spanned decades, Shri Pranab Mukherjee made long-lasting contributions in key economic and strategic ministries. He was an outstanding Parliamentarian, always well-prepared, extremely articulate as well as witty.
President Ram Nath Kovind wrote
Sad to hear that former President Shri Pranab Mukherjee is no more. His demise is passing of an era. A colossus in public life, he served Mother India with the spirit of a sage. The nation mourns losing one of its worthiest sons. Condolences to his family, friends & all citizens.
Endowed with perspicacity and wisdom, Bharat Ratna Shri Mukherjee combined tradition and modernity. In his 5 decade long illustrious public life, he remained rooted to the ground irrespective of the exalted offices he held. He endeared himself to people across political spectrum
As the First Citizen, he continued to connect with everyone, bringing Rashtrapati Bhavan closer to the people. He opened its gates for public visit. His decision to discontinue the use of the honorific 'His Excellency' was historic.
Congress leader Rahul Gandhi said
With great sadness, the nation receives the news of the unfortunate demise of our former President Shri Pranab Mukherjee. I join the country in paying homage to him. My deepest condolences to the bereaved family and friends.
Defence Minister Rajnath Singh said
Deeply anguished by the demise of former president of India, Shri Pranab Mukherjee ji. He was widely respected by the people across all sections of society. His demise is a personal loss. He had tremendous knowledge of India's history, diplomacy, public policy and also defence.
Pranabda epitomised simplicity, honesty and strength of character. He served our country with diligence and dedication. His contribution to public life was invaluable. My deepest condolences to his bereaved family. Om Shanti!
Finance Minister Nirmala Sitharaman wrote
Saddened to hear of the passing away of former Rashtrapati Shri. Pranab Mukherjee. Over the decades, he served the nation in various capacities. Periodically, have benefitted from his wise counsel. India loses an experienced and seasoned leader. Condolences.
Politician Sanjay Jha wrote
Long before the 1991 economic reforms he saw the enormous potential of foreign investment and thus allowed NRI's to acquire equity in Indian companies ( 1982).
A brilliant political career in India's most turbulent political phases. #PranabMukherjee was extraordinary. RIP, Sir!