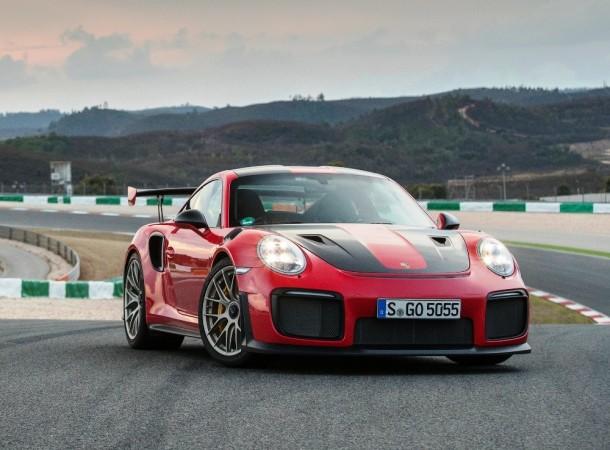 German sports carmaker Porsche had launched the 911 R Exclusive edition and the 911 GT3 in India last year. For 2018, the company will be launching yet another high-performance sports car, Porsche 911 GT2, in India.
The Stuttgart-based carmaker will launch the 911 GT2 RS in July and it is expected to be priced at Rs 3.88 crore (ex-showroom). Revealed at the 2017 Goodwood Festival of Speed in the UK, the Porsche 911 GT2 RS is the fastest and most powerful road-legal 911 variant at present.
Under the hood, the high-performance sports car is employed with 3.8-litre, flat-six, twin-turbocharged engine that develops whopping 686bhp of peak power and 750 Nm of peak torque. The engine comes mated to a seven-speed double-clutch transmission (PDK). Weighing in at 1,470 kg, the lightweight two-seater accelerates from zero to 100kmph in 2.8 seconds. The rear-wheel-drive coupe also has a top speed of 340kmph.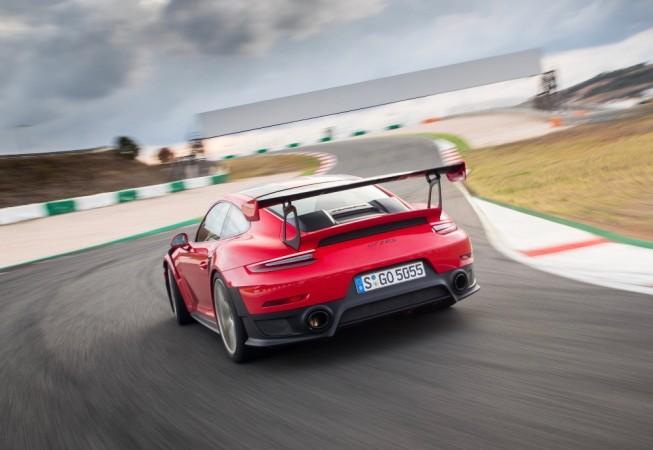 The mill is the same one that also powers the 911 Turbo S. In order to increase performance, large turbochargers push an increased volume of process air into the combustion chambers. Porsche claims a new additional cooling system delivers optimum cooling at peak loads and, at very high temperatures, sprays the charge-air cooler with water.
In order to increase the racing the character of the 911 GT2 RS, Porsche has done an array of updating. These include powerful air intakes and outlets and the imposing rear wing emphasising on vehicle's aerodynamics. The 911 GT2 RS comes with large and wide wheels complimented by features Porsche Ceramic Composite Brakes (PCCB) as standard.
The front wings, wheel housing vents, outer shells on the Sport Design exterior mirrors, air intakes on the rear side sections and parts of the rear end are made from carbon-fibre reinforced plastic (CFR), as are many of the interior components. The bonnet is also made from carbon to make the vehicle as lightweight as possible, while the standard trim roof is made from magnesium. In addition, the specially developed exhaust system is made from lightweight titanium, weighs around seven kilograms less than the system used in the 911 Turbo.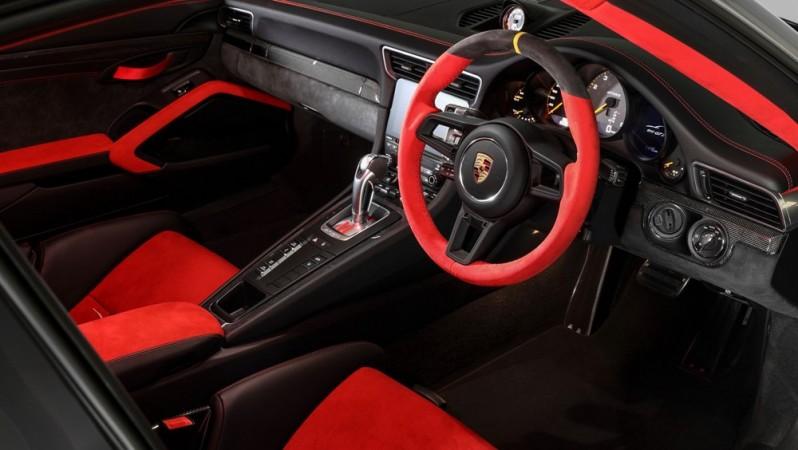 The interior of the 911 GT2 RS is dominated by red Alcantara, black leather and parts with a carbon-weave finish as standard. The GT2 RS sports steering wheel with gearshift paddles enables quick and sporty gear changes. The performance car also gets full bucket seats with a carbon-weave finish.
Source: Autocar