Porsche India on Monday, October 9, announced the arrival of the first 911 GT3 in the country. The powerful two-seater has been priced at Rs 2,31,21,000.
Equipped with a redesigned chassis featuring rear-axle steering, the new model benefits from Porsche's unrivalled motorsport heritage and is built on the same production line as other thoroughbred racing cars.
Its 500 hp four-litre flat engine is a carbon version of that found in the 911 GT3 Cup and produces 460 Nm of torque. When equipped with the standard seven-speed double-clutch transmission (PDK), the model reaches 100 kmph in 3.4 seconds, achieving the fastest-possible lap times and a top speed of 318 kmph.
"Motorsport is an integral part of Porsche's DNA; it is racing heritage which gives us the edge in delivering true sports cars with exceptional everyday usability, and no more so is that apparent than with the 911 range. Porsche's iconic model has been has been developed on racetracks over five decades and we are immensely proud to announce the arrival of our first 911 GT3's in India today," said Pavan Shetty, Director of Porsche India.
Aerodynamics and weight are the two factors that dominated the changes in the 911 GT3 body, in line with Porsche's motorsport developments. The front and rear ends have been optimised and are constructed mainly from polyurethane, in order to reduce weight.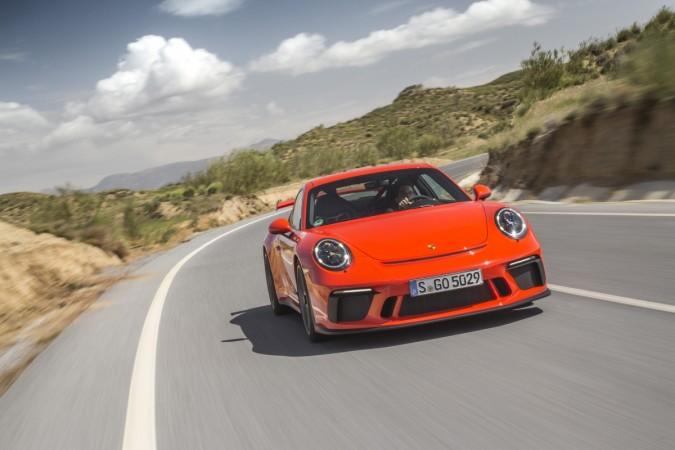 The new rear lid, rear wing, and wing supports are made from carbon. The new 911 GT3 weighs in at only 1,430 kg with a full fuel tank, or 15 kg less when equipped with the manual transmission, combined with the mechanically-controlled differential lock. The interior features a GT sports steering wheel which originates from the 918 Spyder.
In addition to Porsche Communication Management (PCM), standard equipment also includes the Connect Plus Module and the Track Precision app. An optional Clubsport package, including a roll cage, a red six-point seat belt for the driver and fire extinguisher, is also available for more regular racetrack driving and safety.