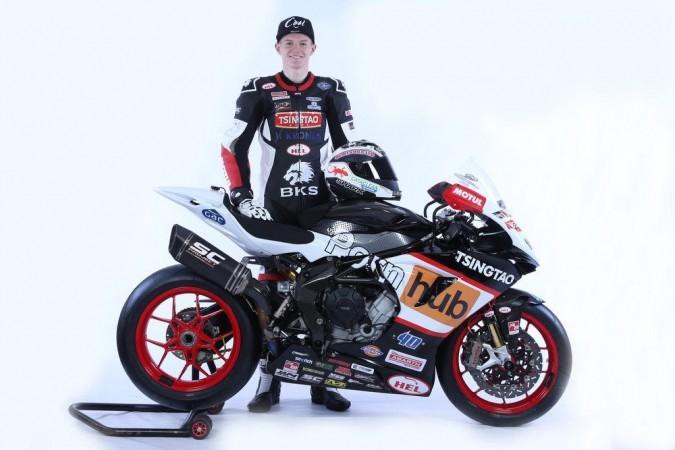 Motorsports, in the past, have seen whacky sponsors such as condom company Durex and sex life Viagra, and the latest one to add to that list is world's largest porn website, Pornhub.
As Motorsports — be it Formula One, MotoGP, or WRC — is an expensive sport, sponsorships become crucial.
British motorcycling team Tsingtao Racing has secured the sponsorship from Pornhub for its upcoming supersport championship. The British Supersport Championship is a support series for the British Superbike Championship.
This is arguably the first time an adult content website is sponsoring a motorsport team. Tsingtao Racing has revealed the MV Agusta F3 motorcycles with a new sponsor for the upcoming season on their Twitter page and the livery has Canadian adult content website's logo over the side fairing and fuel tank.
Interestingly, one of Tsingtao Racing team riders' surname is Truelove. Joe Francis and Harry Truelove will be riding for the team. Though Pornhub livery comes on the bike, it won't be present on the racing suite of neither Truelove or Francis the name across their racing suite.
A Twitter user wittily even asked the team on Twitter, "Do you intend coming first?." The official Twitter handle replied, "Always."
Pornhub may be sponsoring a motorsports team for the first time but the adult content company has earlier sponsored other sports teams.
University of Kent's football team, Rutherford Raiders, had briefly wore shirts with the PornHub logo before the varsity banned them.
Pornhub also sponsored a basketball team in Ireland and a women's roller hockey team in Perth, Australia, reports Aol.
Did you know Andhra Pradesh, India sponsors a Moto 2 team?
Swiss Moto2 team CGBM Evolution has recently unveiled their bikes for the 2018 championship and it carries the Indian state of Andhra Pradesh's 'Sunrise State' livery in white, green and black colors. The bikes also have the logo of Hyderabad-based pharmaceuticals company Dr. Reddy's.