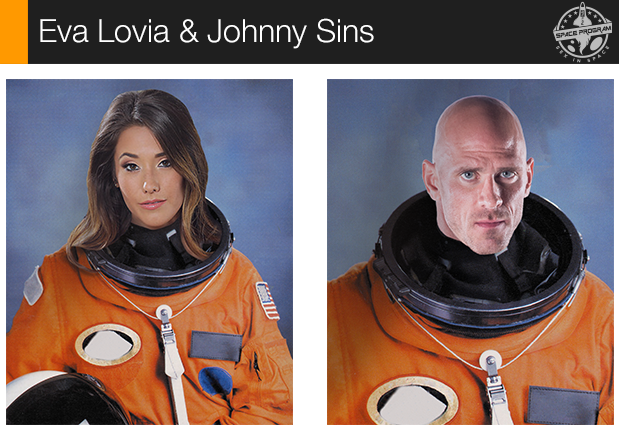 Pornhub is joining many others in endless space exploration mission, but without losing its core purpose. With an aim to make the world's first space sex porno, Pornhub has launched a crowd-funding campaign on Indiegogo titled "Sexploration."
The largest pornography site on the internet has set a fixed goal of $3.4 million to cover the shuttle transportation and video equipment costs among other things.
The campaign has a hefty price tag, but if it reaches the goal within the given time, Sexploration will be launched by late 2016. Those in support of the campaign can make donations as low as $1 and up to $1,50,000. Backers will get rewarded for their donations in different ways such as $1 donation will get you a certificate of participation, $10 will grant early access to the video 24 hours before others and $20 will let you interview the actors Eva Lovia and Johnny Sins referred to as sextronauts.
Higher donations such as $5,000 will set you on a private lunch date with Lovia or Sins and the highest donation of $1,50,000 and up will get you the two spacesuits worn by the so-called sextronauts along with their underwear.
"We're looking to pioneer a one-of-a-kind mission to push the boundaries of intergalactic sexploration, defy gravity and make history. We are excited to change the adult industry as we currently know it by venturing into the final sexual frontier. This will be a grand experiment in learning how intercourse works after penetrating the Earth's atmosphere, a lesson we'd like to broadcast and produce — with great enjoyment — in direct collaboration with those interested in being a part of the global front that will make this a reality," Pornhub VP Corey Price explained about the company's plans on the new mission.
Pornhub also explained how it plans on using the funds with 60% going towards the space flight cost and the rest scattered around post and pre-production, cast and crew, marketing and insurance.
If the thought of why Pornhub is carrying out such a mission struck your mind, the simple answer to that given by the company is "for the love of science and sex."
If Pornhub fails to raise the funds within the 60-day window, the money will be refunded back to the donors. At the time of writing this article, over 300 people donated more than $6,000 in 23 hours. But there is a long way to go.