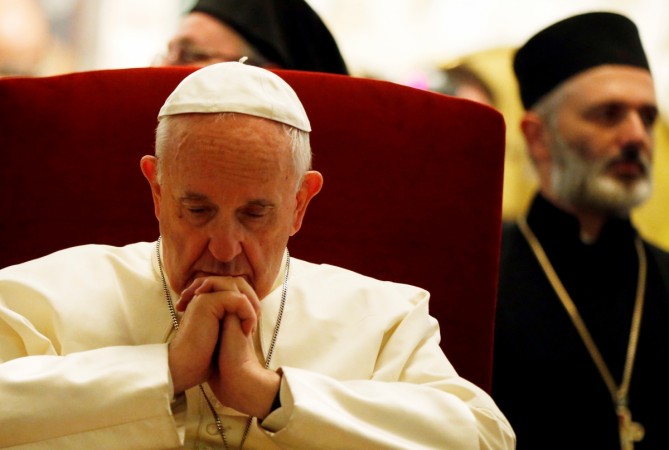 Pope Francis has made a fervent plea to warring parties in war-torn Syria for an "immediate ceasefire" to enable evacuation of civilians, especially children, trapped in the conflict zones. Pope's prayer comes after an aerial strike on the city of Aleppo.
Speaking at the Vatican, during his weekly audience in Saint Peter's Square, Pope reiterated his closeness "to all the victims of the inhumane conflict in Syria."
"It is with a sense of urgency that I renew my appeal, begging those responsible, with all my strength, for an immediate ceasefire to be imposed and respected at least long enough to consent the evacuation of civilians, especially children, who are still trapped under the ferocious bombardments," Pope Francis was quoted as saying by AFP.
Russian aerial attack on Tuesday on the rebel-held eastern Aleppo killed 25 civilians, which included four children. However, sources told Al Jazeera about the death of at least 56 people in the last 24 hours.
Russia is a staunch ally of Syrian President Bashar al-Assad, and had recently announced that it would be setting up a permanent naval base in Tartus, a city on the Mediterranean coast of Syria.
Last month, Syrian Army had vowed to retake the city of Aleppo from the rebel forces. The city has been divided since mid-2012.
The aerial strikes in Aleppo have increased after a recent truce brokered by the US and Russia fell through. The truce was short-lived.
According to reports, Russia and the US will be meeting with regional powers in Lausanne on Saturday to discuss possible steps to settle the crisis in Syria. This would be the first meeting of Russia and the US after the latter said it would suspend its bilateral engagement with Russia over Syria.