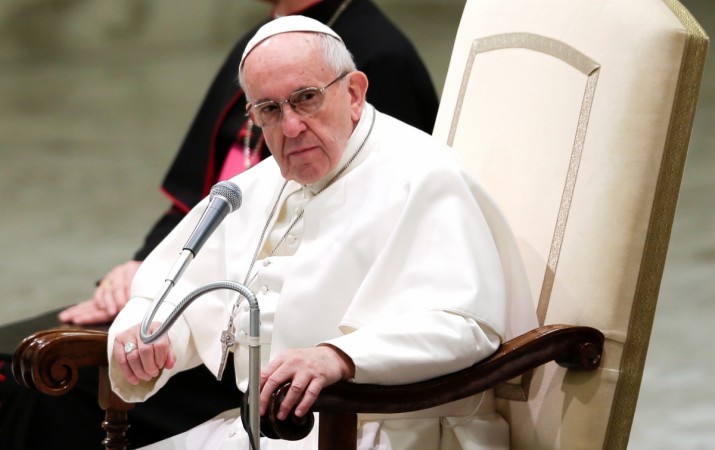 Pope Francis has said that he is open to married men becoming priests, as way to tackle the Catholic Church's shortage of clergymen.
The Pope, during an interview with German newspaper Die Zeit, said that the dearth of Catholic priests in the institution is an "enormous problem" for the Church and suggested that he would be open to a change in the rules which govern the eligibility for priesthood in the Church.
Pope Francis warns people against despots like Hitler who rise to power with popular vote
He however made it clear that he was not advocating the end of celibacy for current priests or those who wish to join the clergy. Francis also said that he sees little possibility of allowing women to be priests.
"We need to consider if 'viri probati' could be a possibility. If so, we would need to determine what duties they could undertake, for example, in remote communities," Pop Francis said. 'Viri probati' is the Latin term designated for "tested men" or married men of outstanding faith and virtue.
Pope said that the option would allow men who are married to be ordained as priests. However, single men who are already priests would not be allowed to marry. "Voluntary celibacy is not a solution," he said.
Reports state that the Catholic Church already allows certain married men to be ordained as priests. Protestant married priests who convert to Catholicism can continue to be married and be a Roman Catholic priest, however they have to take the permission of their wives to do so.
Francis, before being chose as pope in 2013, had said in his remarks included in the book "On Heaven and Earth" that clerical celibacy was "a matter of discipline, not of faith. It can change."
"For the time being, I am in favour of maintaining celibacy with the pros and cons that it has because it has been ten centuries of good experiences more often than failure," Francis, who was then Cardinal Jorge Bergoglio, wrote in his book.
The Roman Catholic Church believes priests should not marry based on certain passages in the Bible because it believes that the priest acts "in persona Christi" (in the person of Christ) and should, therefore, be celibate, like Christ.