A group of more than 20 students from Jammu and Kashmir had written to the Jammu & Kashmir Chief Minister Mehbooba Mufti's Grievance Cell alleging that a Srinagar based aviation institute has duped them of lakhs of rupees after promising jobs in the airline industry. The Grievance Cell forwarded this complaint to the Inspector General of Police (Crime, J&K) but the students don't think any action will be taken.
Hopelessly awaiting job placements, these Kashmiri students are now forced to take up odd-jobs and wander in Delhi. What's more shocking is that some of these complainants allege that they were even threatened with dire consequences by some people associated with the institute.
The allegation
The students — all aged between 23-24, come from the economically weaker sections of society. They allege that the International College of Aviation (ICA) located in Bhagat-Barzulla, Srinagar, Jammu & Kashmir duped them of lakhs of rupees.
Narrating their tale to IBT, the students said that they had enrolled for a short-term aviation course at the ICA. This, owing to a 'promise' of the institute that all of them, after their internships, would be offered suitable jobs at various airports across the country. The students claim that this was clearly mentioned at the time of their admission itself. The pre-requisite was that the students had to complete their internships at the RK Academy in Malviyanagar, and another one in Rajouri Garden run by one Mukesh Kakkar.
Having paid the fee of up to Rs 1.2 lakh (in installments) & completing the internships, the students still await the promised jobs. A student said, "I can't even muster the courage tell my poor parents — who struggled to pay my fee — that I might have been duped."
Another student told IBT, "my parents sold the only piece of land we had in Kashmir to pay Rs 1.2 lakh as fees to the ICA. Thinking I would get a job."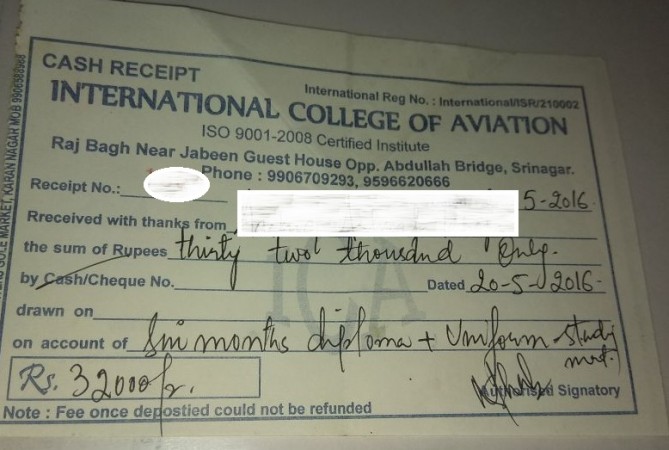 He added, "It was a one-year course, after which I was asked to move to Delhi for an internship. It has been 1.5 years since I came to Delhi. The internship is long over, but I wasn't given any job yet." At present he earns a paltry sum of Rs 200-300 per day doing odd jobs in Delhi.
Another student said, "I enrolled in the 6-month aviation course in 2016 but we were shifted to Jammu due to the 6 months of unrest in Kashmir, which extended my course period to one year. I was promised a job in aviation hospitality and retail management at the airport in New Delhi. An interview was also scheduled by ICA at the RK Academy, Delhi. But all in vain."
Threat call from the 'CBI'
The students claim that as soon as they escalated this to the Grievance Cell & a section of the media, the threats began to follow. A student told IBT about one such a phone call from Mukesh Kakkar.
Kakar (as per the student), claiming to be a CBI officer threatened the student, asking him not to speak to anyone about the issue. "I belong to the CBI (Central Bureau of Investigation) and my team is conducting an investigation into the ICA issue, so do not disclose anything to anyone. If you reveal anything to anyone regarding the ICA issue, you will lose your current temporary job as well and face legal proceedings."

The student claimed the man also called him to some office in Connaught Place, claiming it was a place that the CBI used as a temporary office. When confronted, Kakkar immediately disconnected the call.
Meanwhile, an ex-student from Awantipora in South Kashmir (presently in Delhi) alleged that said ICA's "scam" has been going on since 2011 and many students have been manipulated and duped. She said, "after speaking to the students I discovered that they lack basic communication skills and were lured into such short-term courses with promises of good jobs. But they were duped by the institution: Those sent for some interviews don't get shortlisted because of their below-average communication skills."
Institute offers 'clarification'
Meanwhile, the Managing Director of ICA, Nazir Ahmed Wani denies all allegations. Speaking to IBT over the phone, he said, "we never make any job offer to the students at ICA. What we gave them was a 'selection letter'. We did not promise a job to the students who enrolled in ICA. The ones who have completed 10+2 are eligible for in-flight and ground services jobs. What can we do if the students lack basic communication skills?"
Crime Branch Kashmir Says

Speaking to Danish Manzoor, Executive Editor, IBT India, a senior officer of the Crime Branch Kashmir said, "We have received the complaint. The investigation is nearing conclusion. Preliminarily we can reveal that the said institute is 'unauthorized'. We are aware that the students are scared, we urge them to come forward and talk to us. Action, as per the law will be initiated in due course."
(IBT has ensured the anonymity of the students upon their request as they fear for their safety.)