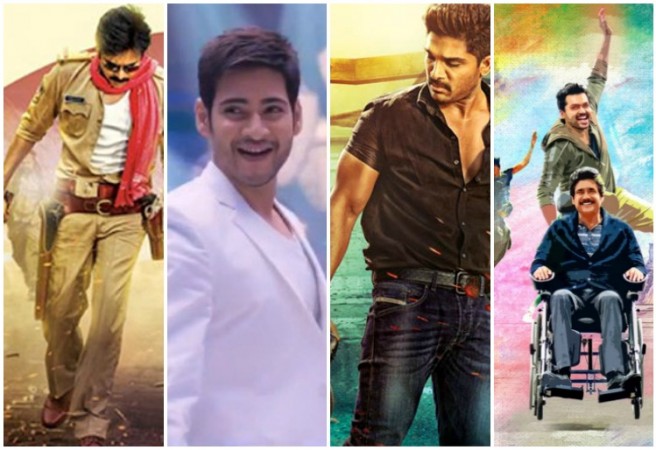 Superstar Mahesh Babu's "Brahmotsavam" will be the biggest summer hit at the box office, beating Power Star Pawan Kalyan's "Sardaar Gabbar Singh" and Stylish Star Allu Arjun's "Sarainodu."
The summer holidays happen to be one of best seasons for the marketing of Telugu films. Tollywood filmmakers try their best to exploit and explore this season every year. This year, too, some makers are set to test their fate and a host of big-ticket films are scheduled to be released in theatres this season.
Telugu movies like "Sardaar Gabbar Singh," "Brahmotsavam," "Sarainodu," "Oopiri" and "A...Aa" are some of the biggest contenders of this summer season. We, at IBTimes India, recently conducted a poll survey to find out which of the five films will be the biggest money-spinner at the global box office.
The survey was held between March 10 and 31, and we have received good response, with many readers participating in the poll. As per the survey, 47.57 percent readers cast their vote for "Brahmotsavam," and think it has the potential to overtake "Sarainodu" to become the biggest summer hit.
"Sardaar Gabbar Singh" has landed in the second place with 27.08 percent of readers voting for it, while "Sarainodu" is in the third spot with 20.83 percent vote. Nagarjuna's "Oopiri" and Nithin-Samantha's "A...Aa" have bagged 2.78 percent and 1.74 percent votes, respectively.
Of the five films, "Oopiri" has already been released and made good collection at the box office. But its business is not up to the mark. "Sardaar Gabbar Singh" is slated to hit the screens April 8. The film has a massive amount of advance booking and is likely to get a huge opening.
"Sarainodu," "A...Aa" and "Brahmotsavam" are expected to hit the screens April 22, May 6 and May 12, respectively. There is huge hype and expectations from each of these summer releases. It remains to be seen how they will perform at the ticket counters around the world. Stay tuned to read about their box office reports.