Hours after nine students lost their lives and 24 others injured when a Mahindra Bolero rammed into Dharampur Government Middle School building in Bihar's Muzaffarpur, the police stated that the vehicle belonged to a Bharatiya Janta Party (BJP) leader— Manoj Baitha. The school is situated along the National Highway 77.
The revelation has stirred a controversy in the state with the opposition targeting the ruling coalition for allegedly trying to cover up the political connection.
The crashed vehicle had a BJP logo on its grill and the opposition parties have raised the issue, demanding action against the BJP leader.
Documents found inside the Bolero, including the registration papers, suggested that the vehicle was owned by Baitha, according to police. However, IANS reported that BJP has dismissed the allegations and stated that they have no leader called Manoj Baitha.
BJP spokesperson Devesh Thakur was quoted by Scroll as saying, "We do not have any leader by that name associated with the party."
Bihar: Tejashwi Yadav arrived at Shri Krishna Medical College And Hospital in Muzaffarpur to meet the injured & families of the deceased of the incident where a vehicle rammed into a school building leaving 9 students dead & 24 injured. pic.twitter.com/3VBza0uA2m

— ANI (@ANI) February 24, 2018
According to Rashtriya Janata Dal (RJD) leader Tejashwi Yadav, the relatives of the deceased kids have confirmed that the vehicle had a BJP board on it and that "the people inside the vehicle were intoxicated," Yadav alleged.
He added, "The vehicle belongs to a BJP general secretary, the driver is absconding, and the administration has not been able to arrest him so far."
The opposition in Bihar also alleged that Chief Minister Nitish Kumar and Deputy Chief Minister Sushil Modi are covering up the BJP leader's involvement in the school tragedy.
Taking a dig at the ruling dispensation in the state, Yadav also questioned the liquor ban which is in force in Bihar. He asked, "Where did the driver get the liquor from when there is a ban on liquor in the state?"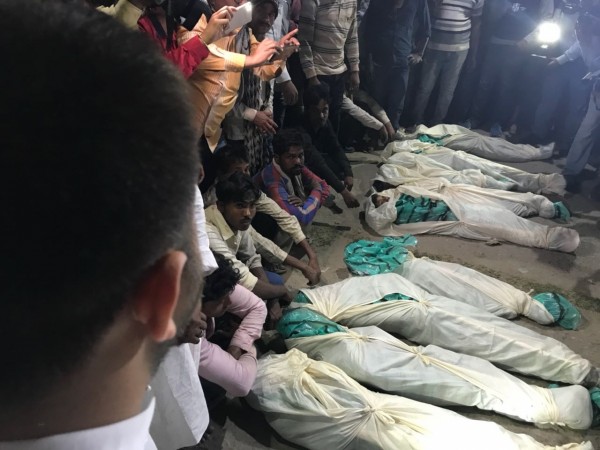 It has to be noted that on Saturday, after the accident, Mithilesh Yadav, a member of the district board, who is also a witness to the incident had a different version to narrate. He stated that Bolero was trying to avoid crashing into a woman who was hit by a truck, and in this process, the SUV got out of control and hit the school building.