Following the footsteps of British bike maker Triumph, the iconic American two-wheeler manufacturer Polaris group is all set to steer into the sub-continent's motorcycle market with its Indian Motorcycles.
Polaris, the maker of snowmobiles and all-terrain vehicle (ATV) will begin its Indian journey on 22 January 2014.The Indian Motorcycles is speculated to launch its newly unveiled cruisers Indian Chief Classic, Indian Chief Vintage and Indian Chieftain in the country. To begin with, the company will start marketing its motorcycle through a single outlet in Delhi and subsequently expand its network to other cities like Mumbai and Bangalore.
All three models derive power from an all-new Thunder Stroke 111 engine, which is mated to a 6-speed transmission. In the US, the bikes Chief Classic, Chief Vintage and Chieftain are priced $18,999, $20,999 and $ 22,999 respectively. Keeping this figure in mind, the marquee motorcycles are expected to fall in the price range of ₹10 - 15 lakh in India.
The Indian Motorcycles is likely to sell the upcoming models in the new destination, through Completely Built up Unit (CBU) route.
The charismatic bike models of Indian chief are feted for the Cruise control, antilock braking system, keyless starting and electronic fuel injection. Apart from this standard features , the Indian Chief Vintage sports tan leather quick-release saddlebags, tan leather two-up seat and quick-release windshield. The Indian Chieftain on the other hand, features stereo with speakers in the fairing, Bluetooth media players, tire pressure sensors, air-adjustable rear shock, and motorized windshield adjustment.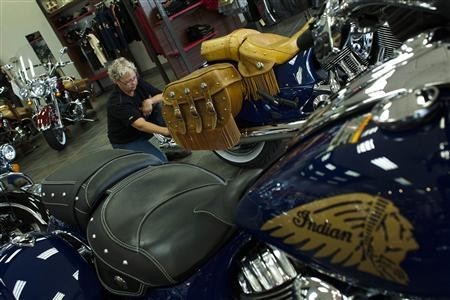 Polaris Group is the latest international brand to venture into the sub-continent motorcycle market. Earlier in November, Britain's largest motorcycle manufacturer Triumph Motorcycles had announced its entry into the market with 10 models, which are priced between ₹5.7 lakh and ₹20 lakh (ex-showroom).