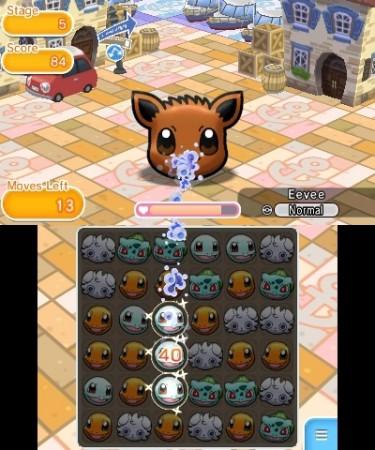 A trailer has been released for the upcoming Pokemon Super Mystery Dungeon, which is a Nintendo 3DS video game.
Super Mystery Dungeon is expected to hit Japan earlier than North America. The Japan release will be on 17 September 2015 while the Western release will be in early 2016.
The new trailer reveals that players of the game will be able to travel places around the world with a partner who is chosen via questioning process similar to the original Pokémon Mystery Dungeon titles, reported Serebii.
The present trailer is in Japanese. It has been confirmed previously that the game will feature "720 types of Pokemon" and out of it 20 will be playable.
(YouTube Courtesy: PokemonCoJp)
Pokemon Shuffle has New Stages and Events
Pokemon Shuffle, the freemium puzzle game from developers Game Freack and Genius Sonority, gets new stages and events for the game.
The new update has, according to Serebii, brought in three Expert stages.
There is also a new event titled Escalation Battle in this Nintendo 3DS game that will be running from 8 to 22 June. This event will give players access to Pokémon Giratina. Participants will be highly rewarded, for catching Giratina at a higher difficulty level.
Level 5 - 1,000 coins
Level 10 - Disruption Delay
Level 30 - Mega Start
Level 50 - Mega Speed-up
It also notes that to mark celebration, Mega Speed-up item is being distributed too.
The report also mentioned about the second wave of Daily Events. Players can participate in the event and get the below Pokemon on the particular day.
Pachirisu - Monday
Sigilyph – Tuesday
Sigilyph - Wednesday
Farfetch'd - Thursday
Druddigon – Friday