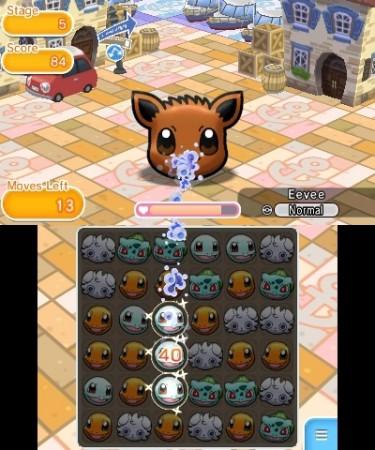 Pokemon Shuffle, the freemium puzzle game, has received a reminder with Serebii reminding players that today (5 April, 2015) will be the last day to enter the Competitive Challenge event.
The Competitive Challenge event consists of 10,000 players in Europe, 20,000 players in North America and 50,000 players in Japan. The event ends on 7 May, 2015.
Players will be earning a Banettite for their Mega Banette. And, players will earn a Jewel for those who do not rank in top amounts.
Pokemon Shuffle is also running a Daily Pokemon challenge that will be running from 4 May, 2015 to 16 May, 2015. This event will allow participants access various Rotom forms, starting with Frost Rotom.
New Passcode
A new passcode was released for Pokemon Shuffle that gives players 5 EXP Points. This code was released via Pokemon Centers in Japan. This will be usable worldwide and will end on 1 June, 2015.
Passcode: 04482045
Pokemon Omega Ruby and Alpha Sapphire – Darkrai Event
Pokemon Omega Ruby and Alpha Sapphire's Darkrai Event code is also set to end and it will no longer be redeemable. The end date is listed as 5 May according to the website.
New Passwords for Pokemon Rumble World
Serebii has revealed a new password that was officially revealed for Pokemon Rumble World for Europe. The password will give players access to special Togepi. It has moves like Draining Kiss and Fairy Wind. It has traits like Lingering under the Gift.
Password: 40909306
Another password revealed for Pokemon Rumble World will allow players to get a special Pikachu outfit.
Password: 14101855