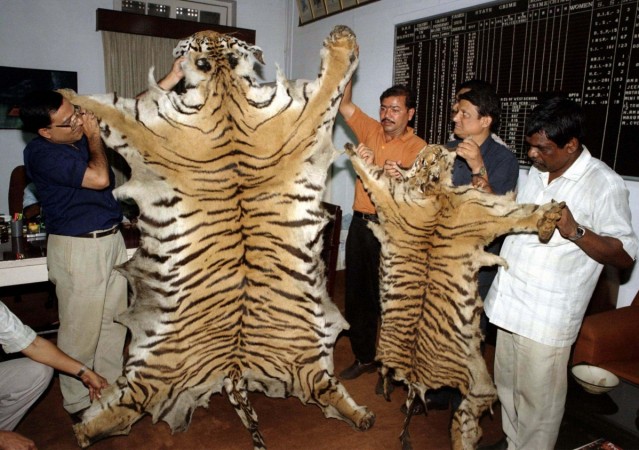 Poachers killed more tigers in the first four months of 2016 than in entire 2015, according to a latest data by the Wildlife Protection Society of India (WPSI), as reported by the Hindustan Times. Twenty eight tigers were killed till April 26 as compared to 25 poached for body parts in 2015; highest for the first four months in the last decade.
Poaching across India's most protected forest areas hints at the rise in demand of the feline's body parts and a thriving network of poachers. National Parks and tiger reserves of Madhya Pradesh, Uttarakhand, Chattisgarh and Karnataka have witnessed six, five, three and two deaths of the big cats so far.
India, with 3,200 tigers, is home to 70 percent of the world's tigers.
The latest killings meant that "access to tigers is as easy as before," especially with many issues left unsorted, said PK Sen, former director of the Project Tiger.
Increasing tiger density (number of tigers in 100sq km) apart, 40 percent of 2,206 tigers in India are outside the most protected core area of tiger reserves, the HT reported.
The national park of Pench spreading across Maharashtra and Madhya Pradesh, for instance, has left its buffer zone (zone marked as tiger habitation) unpatrolled by forest guards as it has 600 villages and many roads traversing it; making it easy for poachers to infiltrate, hunt and smuggle.
Incidentally, Corbett national park in Uttarakhand reported five tigers poached despite a warning issued by the WPSI. Acknowledging that the deaths were known only after the seizures of skin and body parts from smugglers at the Indo Nepal border, officials said tracking every tiger in the Himalayan terrain was an arduous task.
At a conference of tiger range countries inaugurated by Prime Minister Narendra Modi last month, it was highlighted that improved vigilance and wildlife crime control had contained poaching. Though partially true, wildlife experts have said the bigger truth is that poachers are now scanning the entire tiger population in the country. It noted, as an example, that southern states, which earlier never reported any case of poaching, now has many instances.
An official from the National Tiger Conservation Authority (NTCA), denying some allegations made by the states, reminded that it was the states' job to implement conservation mechanism and safety measures. The funds are granted sufficiently for conservation efforts under the Project Tiger, if not, "how would have tiger population increased by around 30 percent in four years (between 2010 and 2014)?" he asked.
Apart from poaching, 2016 saw another 30 tiger death in the first four months because of reasons like killing by villagers, infighting and natural death. In 2015, about 70 deaths were reported in these categories.