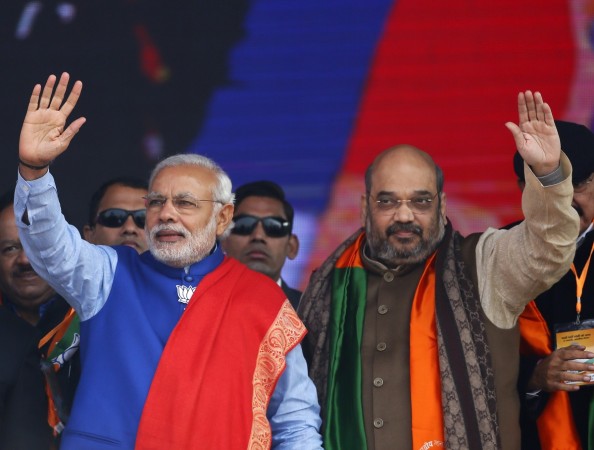 The launch of the Goods and Services Tax (GST) regime seems to mark another political victory for Prime Minister Narendra Modi and his Bharatiya Janata Party (BJP), thanks to yet another directionless position the Opposition has taken over its inauguration at midnight on June 30.
The Opposition, which is now considering to boycott the GST launch programme even after the country's biggest tax reform saw an all-party consensus, will only send across a signal that it is deliberately trying to deny PM Modi the credit for making things possible despite the odds. From the electoral perspective, this opposition will do Modi an immense favour, irrespective of what the GST has in store for the country in the short and long run.
Personal invitation to Manmohan a master stroke
The clever strategy masters in the government have also given a master stroke by personally inviting former prime minister Manmohan Singh to the GST launch programme. It can be mentioned here that it was Singh who had played the role of a game-changer by advising the Congress against proceeding with amendments to the GST bills and let them get passed in parliament.
The statesmanship of Singh, who backed GST unlike demonetisation – another financial adventure the Modi government indulged in last November – played to his successor's advantage and now the BJP has personally invited him to leave the Opposition in a fix.
If Singh attends the launch programme which he has to since he backed it vigorously, the Congress cannot really remain in a half-here-half-there position and if the second largest party in parliament attends it eventually, the lesser parties will find their attack blunted.
Another mega midnight since Nehru's 'Tryst with Destiny' speech 70 years ago
Also, kicking off the GTS regime at midnight will undoubtedly draw a parallel between the Modi government's biggest achievement so far and the 'Tryst with Destiny' speech by his predecessor Jawaharlal Nehru at midnight on the day India attained independence, 70 years ago.
Given Modi's penchant for symbolism, the boundless coverage of the midnight programme where India's diverse political forces will come together to see the beginning of the age of a mega financial reform will undoubtedly take his stature closer to the country's first prime minister, who had also flagged off the biggest political reform on August 15, 1947, in the form of parliamentary democracy.
Modi's political acumen is winning him battles in other domains too, at least at the moment.