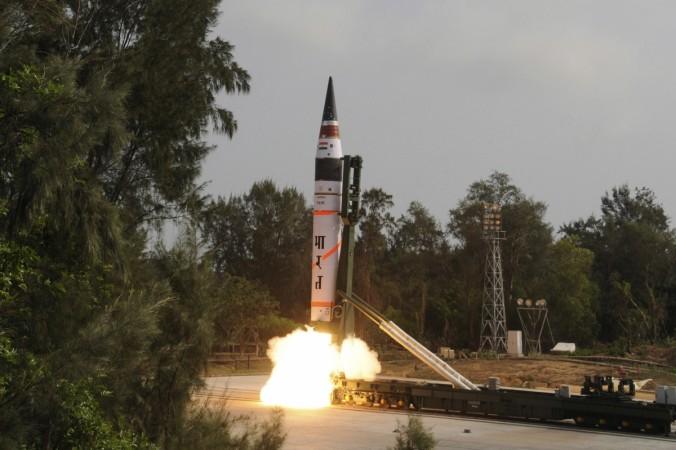 The upcoming state visit of Prime Minister Narendra Modi to the U.S. on June 6 has reportedly put the brakes on the final development trial of the nuclear-tipped Agni-V surface-to-surface inter-continental ballistic missile (ICBM), the New Indian Express‎ reporte,d citing reliable sources in the Defence Research and Development Organisation (DRDO).
The launch of the missile, which has a possible operational range of over 5,000 km, has been put off till after Modi returns, because he is supposed to witness the test.
Though the missile is ready to showcase its ability, the test dates have been pushed back by at least six months for "strategic reasons." It had been delayed initially due to the visit of U.S. President Barack Obama and later because of the the busy schedule of Modi and Defence Minister Manohar Parrikar.
With the green signal from Ministry of Defence (MoD) and Ministry of External Affairs (MEA), the DRDO is waiting for communication from the Prime Minister's Office (PMO).
"While the DRDO is waiting for the prime minister's confirmation to witness the launch, the PMO is yet to give confirmation on the visit of the prime minister to the test facility. The test now completely depends on the schedule of the PMO," the source told the New India Express.
However, defence experts in India like Bharat Karnad professor at New Delhi based Centre for Policy Research (CPR) have criticised such postponing. Karnad observed that Modi does not want his visit to be affected by the missile launch. "He seems more eager to please Washington than to strengthen India's strategic muscle vis-a-vis China," said Karnad.
This will be the last state visit Modi will have with Obama, as the latter's term will be ending in January 2017. Modi is also expected to address a joint session of the US Congress and the 41st Annual Leadership Summit in Washington D.C. on June 7.
The canister launch of the missile is expected to determine its flexibility — which will allow it to be transported to any place for launch.