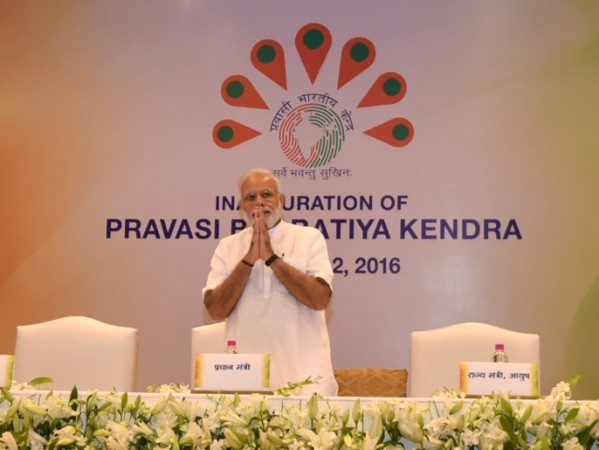 Prime Minister Narendra Modi took a swipe at Pakistan on Sunday by saying India has "never coveted" any territory. The statement was an indirect jab at Pakistan, which has occupied parts of Kashmir and claims them to be its own. Modi, however, refrained from naming Pakistan in his statement.
Inaugurating the Pravasi Bharatiya Kendra, a state-of-the-art complex for services to overseas Indians, Modi said on Sunday: "India has never coveted any territory; never attacked another country. Instead, thousands of Indians gave their lives in the World War I."
He added: "In the last two years, you have seen how the Central government rescued people from conflict situations, not just Indians but foreigners too. On humanitarian issues, the Ministry of External Affairs has created a special niche for itself."
This was a reference to the various efforts by External Affairs Minister Sushma Swaraj and others in her ministry to help Indians stranded on foreign land without proper resources. In some cases, the ministry has reached out to such people after receiving only a single message on social media platforms like Twitter.
Modi also spoke on non-resident Indians (NRIs) on the occasion, saying: "The Indian diaspora should be looked at, not just in terms of its numbers, but also in terms of its strength. For years the term 'brain drain' has been in vogue. But if we look at the diaspora as our strength we can convert it this to 'brain gain'."
This was an apparent push by the prime minister to get more talent — both entrepreneurial and specialised skills — back into the country, in a move that could bolster his "Make in India" initiative.
Modi also said: "At a time when the world is keen to engage with India, the fear of the unknown can be the biggest obstacle, which the Indian diaspora can help overcome." This was his way of urging NRIs to get more investment for the country by acting as an interface between the nation and investors.