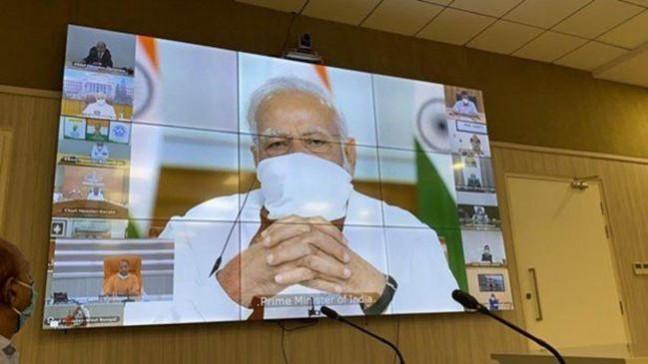 Prime Minister Narendra Modi addressed the nation at 8 pm on Tuesday, May 12. PM Modi's address comes days before the third phase of the lockdown ends on May 17. The ongoing nationwide lockdown has been in force since March 25.
Taking to Twitter, the PMO Twitter handle on Tuesday afternoon announced that PM Modi will address the nation at 8 pm today.
Union Home Minister Amit Shah also tweeted: "Prime Minister Shri @narendramodi ji will be addressing the nation tonight at 8 PM. Do Watch!"
Live Updates
2020-05-1220:42 (IST)
Update for the Live Blog has ended
The update for the Live Blog has ended.
2020-05-1220:42 (IST)
Key details from PM modi's speech
Based on the suggestions by states, information related to lockdown 4 will be given to you before 18th May. We will fight Corona and we will move forward, PM Narendra Modi said.
Scientists say that Corona will be a part of our lives for a very long time. But we can't let our lives remain confined around Corona. We will wear masks and maintain social distancing but we will not let it affect us. So lockdown 4 will be in a new form with new rules: PM Modi
Time has taught us that we must make 'local' the mantra of our lives. Global brands that are there today were once local too but when people there started supporting them they became global. That is why from today, every Indian must become vocal for our local: PM Modi
2020-05-1220:38 (IST)
FM Sitharaman to announce details of the financial package: PM Modi
Union Finance Minister Nirmala Sitharaman will announce the details of the financial package starting tomorrow, Prime Minister Narendra Modi said.
2020-05-1220:28 (IST)
PM Modi's announce package to fight economic distress
This financial package will act as the foundation stone for a self-reliant India, PM Modi said. "This package is 10% of India's GDP and will support various sectors. The package emphasises on land, labour and other important factors. It is for MSME, agriculture and other sectors that employ millions. It is for those farmers, labourers and middle-class that pays tax and contribute to India's growth," Modi added.
2020-05-1220:24 (IST)
PM Modi's mega stimulus
PM Modi announced a special economic package today, which will play an important role in the 'Atmanirbhar Bharat Abhiyan'. "The announcements made by the govt over COVID, decisions of RBI & today's package totals to Rs 20 Lakh Crores. This is 10% of India's GDP," PM Narendra Modi said.
2020-05-1220:15 (IST)
'India has the capability and talent to make best products'
"When India speaks of self-reliance, it does not advocate for a self-centered system. In India's self-reliance there is a concern for the whole world's happiness, cooperation & peace," PM Modi said.
2020-05-1220:10 (IST)
PM Modi on how India converted crisis into opportunity
PM Modi said, "When the coronavirus outbreak began, there was negligible production of PPE kits in India. Today, every day 2 lakh PPE and 2 lakh N95 masks are being made in India. This is because India converted crisis into opportunity."
2020-05-1220:08 (IST)
PM expresses condolences to all who lost their family members
PM Modi says, "Thousands have died in India because of Covid-19. I express my condolences to everyone who's lost their family members because of this virus."
2020-05-1220:04 (IST)
PM Modi begins speech
Crores of lives are in peril: Modi
We are in a state of war against the virus, says the PM.
This is the biggest challenge for humanity: PM Modi
2020-05-1219:42 (IST)
What to expect from PM Modi's speech today
Amid speculations on lockdown 4.0, PM Narendra Modi had hinted in meeting with the chief ministers that the lockdown - extended thrice -- would continue, but with far fewer restrictions. READ FULL REPORT HERE
2020-05-1219:39 (IST)
Extremely grateful to the nurses: PM Modi on International Nurses Day
On International Nurses Day 2020, PM Modi took to Twitter saying, "International Day of the Nurse is a special day to express gratitude to the phenomenal nurses working round the clock to keep our planet healthy. Presently, they are doing great work towards defeating COVID-19. We are extremely grateful to the nurses and their families."
Inspired by Florence Nightingale, our hardworking nursing staff personify abundant compassion. Today, we also reiterate our commitment to keep working for welfare of nurses and devote greater attention to opportunities in this field so that there is no shortage of caregivers," read PM Modi's tweet.