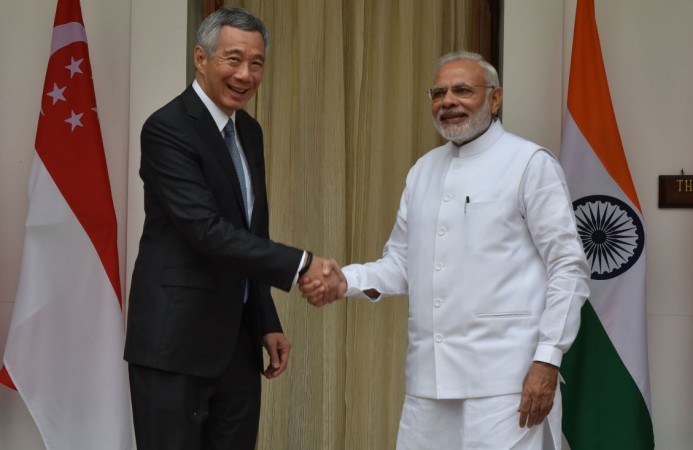 Prime Minister Narendra Modi has been appreciative of Singapore's sustainable development and the speed in which they are prepared to face the future. On Tuesday, PM Modi was seen praising Singapore during the presser with the Prime Minister of Singapore, Lee Hsien Loong.
Loong is on a five-day trip to India. India and Singapore have signed three key agreements and also held key delegation-level talks in New Delhi.
PM Modi called Loong a friend of India, who in the "driving seat" for Singapore and for India's bilateral relationship. The Prime Minister also remembered and paid respects to the Father of Singapore, former PM Lee Kuan Yew, calling him a guiding light to the whole of Asia. He also said that he was saddened by the demise of former President S R Nathan, who was a close friend of India.
Here are some of the key statements from PM Modi on Singapore:
"One of India's strongest well-wishers PM Lee is in the driving seat for Singapore and for our bilateral relationship"
"Singapore's National Anthem is "Majulah Singapura"– "Onward, Singapore" No surprise, therefore, that if there is one country that seems to act in the present, but is alive to the needs of the future, it is Singapore."
"Whether it is manufacturing, environment, innovation, technology, or delivery of public services, Singapore does today what the rest of the world would do tomorrow."
"To deliver benefits to both our people, our partnership aims to combine the strengths of Singapore with the scale of India."
"The trade and investment ties form the bedrock of our bilateral relationship."
"Our defence and security cooperation is a key pillar of our strategic partnership."
"Rising tide of terrorism, especially cross-border terrorism, and rise of radicalisation are grave challenges to our security."
"It is my firm belief that those who believe in peace and humanity need to stand and act together against this menace of terrorism."
Loong in his statement condemned terrorism and offered condolences to the families of the soldiers killed in Uri attack. He also reiterated that Singapore was a firm believer in India.