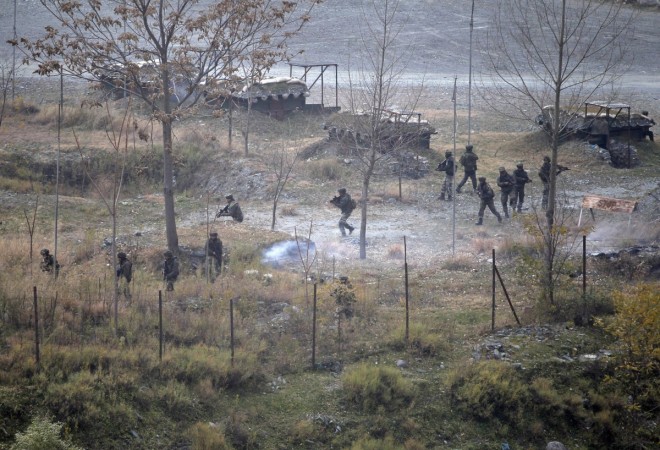 Prime Minister Narendra Modi's meeting with top ministers like Rajnath Singh, Manohar Parrikar, Arun Jaitley and NSA Ajit Doval is underway over the deadly Uri attack that killed 17 soldiers on Sunday. Meanwhile, India is under pressure about how it will be responding to one of the worst attacks on the Indian military in Kashmir in recent times.
Prime Minister Narendra Modi called it a "cowardly" terror attack and said that those behind the "despicable" strike won't go unpunished. "Pakistan is a terrorist state and it should be identified and isolated as such," Union Home Minister Rajnath Singh said. He also expressed "deep disappointment" at Pakistan's "continued and direct support to terrorism and terrorist groups."
On Sunday morning, militants attacked the Army's Brigade Headquarters in Uri in the Baramulla district of Jammu and Kashmir killing 17 soldiers. India faced another similar vicious attack on an airbase in Pathankot on 2 January 2016. The two countries' relations have steadily deteriorated since then. Pakistani Prime Minister Nawaaz Sharif has attacked India over the unrest in Kashmir.
"The PM has promised that those behind the Uri terror attack will not go unpunished. That should be the way forward. For one tooth, the complete jaw. Days of so-called strategic restraint are over," said BJP spokesperson Ram Madhav.
"The supreme sacrifice of 17 brave soldiers will not go in vain. My salute to them. Reviewed situation in Kashmir following Uri attack with Army Chief & Commanders. Instructed to take firm action against those responsible," Defence Minister Manohar Parrikar tweeted after his Srinagar visit.
Pakistan dismissed India's accusations saying they were "totally baseless and irresponsible." It also said that India has a "history of blaming Pakistan" immediately after a terror strike, NDTV reported.
There are clear signs of banned terror group Jaish-e-Mohammed's involvement in the attack, said Director General of Military Operations Lieutenant General Ranbir Singh. He also said that the attackers were foreigners.
A map found with weapons and ammunition that the terrorists was annotated in Pashto, reports said. According to sources, the map indicates that the four terrorists who had attacked Uri were from banned terror group, Sipah-e-Sahaba Pakistan (SSP), which now works under Jaish command.