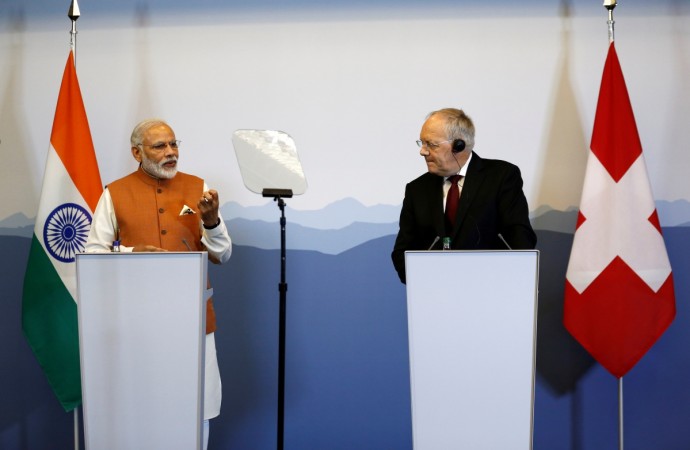 Switzerland has promised to cooperate with Indian authorities to tackle black money stashed away in Swiss bank accounts by tax evaders, according to a statement released during Prime Minister Narendra Modi's visit to the country.
After a private meeting with Swiss President Johann Schneide-Ammann and a round-table discussion with Swiss businessmen, Modi said tackling tax evasion and combating black money would be a "shared priority" of the two countries.
"We discussed the need for an early and expeditious exchange of information to bring to justice the tax offenders. An early start to negotiations on the Agreement on Automatic Exchange of Information would be important in this respect," he said.
Schneider-Ammann reportedly said no figure has been suggested on the quantum of black money to be recovered. He confirmed that talks would begin this month.
India is one of the early adopters of the Automatic Exchange Of Information (AEOI) standards approved by the Organisation for Economic Co-operation and Development (OECD). Switzerland is set to adopt the standards by 2018. AEOI, according to the OECD website, facilitates exchange of "non-residential financial account information" annually to the tax officials in the account holder's native country without a separate request for such information.
India also became part of a global agreement for country-to-country reporting, as conceived under the Base Erosion and Profit Shifting norms, to disclose information on multi-national corporations who exceed €750 million in consolidated revenue.
In a statement quoted by PTI, the Swiss President said the two countries "are making considerable progress in fighting tax fraud and evasion."
Support for India's membership to the Nuclear Suppliers Group — the other concern that dominated Modi's agenda in Switzerland — also elicited a positive response from the founding member of European Free Trade Association.