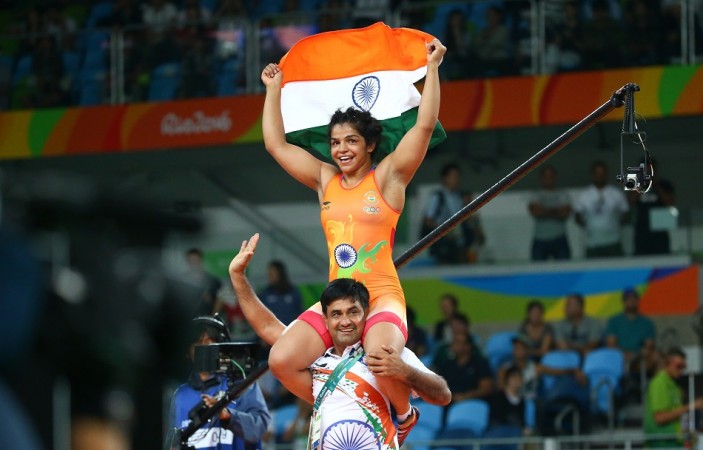 India finally broke the jinx at the Rio Olympics 2016 when 23-year-old freestyle wrestler Sakshi Malik won a bronze medal in the wrestling 58 kg category. She defeated Aisuluu Tynybekova of Kyrgyzstan in the bronze medal bout.
Wishes have been pouring in from all quarters across the world. The Haryana government has also announced that she would be given Rs. 2.5 crore and a job.
In a thrilling contest, Sakshi had fought back from 0-5 down to seal the bout 8-5 in her favour.
"(It is) a big achievement. (I) was after it for (the) past 12 years. I always dreamed of running with (the) flag and when I finally did it, it was (the) best moment of my life," Malik said after her win.
Politicians and celebrities from sports and film industries have also congratulated the wrestler on social media.
Hearty Congratulations to #SakshiMalik for winning a medal in women's wrestling in #Rio2016 and doing India proud #PresidentMukherjee

— President of India (@RashtrapatiBhvn) August 18, 2016
Sakshi Malik creates history! Congratulations to her for the Bronze. The entire nation is rejoicing. — Narendra Modi (@narendramodi) August 18, 2016
On this very auspicious day of Raksha Bandhan, Sakshi Malik, a daughter of India, wins a Bronze & makes all of us very proud. #Rio2016

— Narendra Modi (@narendramodi) August 18, 2016
Sakshi Malik will inspire several sportspersons in the years to come. https://t.co/5aE24BIryT — Narendra Modi (@narendramodi) August 18, 2016
Congratulations to Sakshi Malik on winning the first medal for #IND in Rio Olympics. Her victory will inspire millions in India. #Rio2016

— Rajnath Singh (@rajnathsingh) August 18, 2016
Congratulations to #SakshiMalik on her phenomenal achievement of winning India's first medal at #Rio2016. You made us proud. — Manohar Parrikar (@manoharparrikar) August 18, 2016
Great fight back by Sakshi Malik!
First medal for #Ind in #Rio2016 #Olympics in #wrestling!

— Ajay Maken (@ajaymaken) August 17, 2016
Congratulations to India's daughter and a member of Railway family #SakshiMalik for winning first medal for India at #Rio2016 Proud moment! — Suresh Prabhu (@sureshpprabhu) August 18, 2016
Congratulations to #SakshiMalik on winning Bronze. Thank you for giving us a moment of joy and pride. pic.twitter.com/922WF959wy

— Amit Shah (@AmitShah) August 18, 2016
Congrats #SakshiMalik on winning #wrestling bronze at the #Rio2016 She has created history & made the country proud. pic.twitter.com/ARwEoA20bb — Arun Jaitley (@arunjaitley) August 18, 2016
Congrats #SakshiMalik for the #Bronze @ #Rio2016 . #IND's daughter, we are proud of you.. Well done pic.twitter.com/DHpEQWCRvX

— Rajyavardhan Rathore (@Ra_THORe) August 17, 2016
When a Bronze is Heavier than a Gold ...#SakshiMalik Take a Bow — GAGAN NARANG (@gaGunNarang) August 17, 2016
Congratulations to #SakshiMalik on winning the Bronze in Women's Freestyle 58kg to give India its first medalWe are proud of u #Rio2016

— VVS Laxman (@VVSLaxman281) August 18, 2016
Poora Bharat is baat ka Sakshi hai,jab koi bht mushkil ho toh is desh ki ladkiyan hi Malik hain.Thank U#SakshiMalik pic.twitter.com/YfHgRqxwTM — Virender Sehwag (@virendersehwag) August 18, 2016
#SakshiMalik is a reminder of what cn happn if u don't kill a girl child.When d going gets tough,its our girls who get going &save our pride

— Virender Sehwag (@virendersehwag) August 18, 2016
Well done #SakshiMalik on your achievement! Proud of you! #Rio2016 — Anil Kumble (@anilkumble1074) August 17, 2016
Wowwwwww amazing amazinggggg #SakshiMalik
Take a bow

— Gutta Jwala (@Guttajwala) August 17, 2016
A medal! And a first for a woman wrestler! Hopefully, the first of many. Congratulations to the tough #SakshiMalik — Harsha Bhogle (@bhogleharsha) August 18, 2016
#SakshiMalik Kamal ker diya Bhai chori ne kya bolte h lath gaad diya #Rio2016 #Proud

— Vijender Singh (@boxervijender) August 18, 2016
Congratulation #SakshiMalik Be strong #Rio2016 #wrestling #KheloIndia — Mary Kom (@MangteC) August 17, 2016