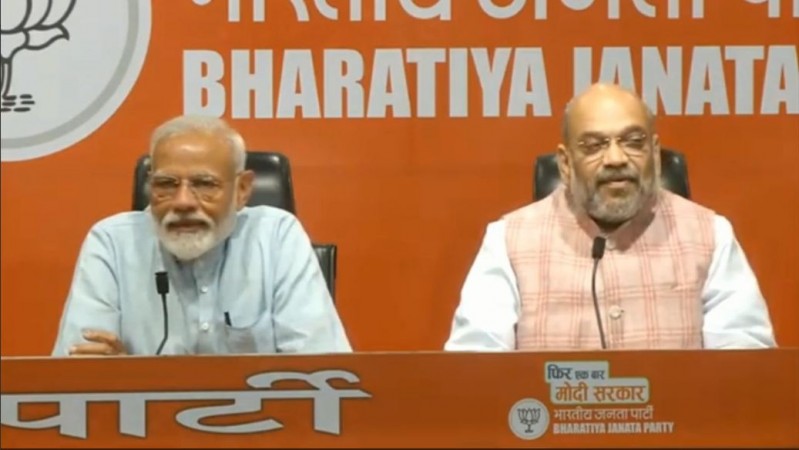 Prime Minister Narendra Modi addressed his first-ever press conference on Friday. He was accompanied by Bharatiya Janata Party president Amit Shah.
Shah first addressed the journalists and gave a detailed report on the government's achievements since coming to power in 2014. He assured that BJP will come back with a majority.
"Today is the end of a long and successful campaign for the BJP. From BJP's point of view, this election campaign has been the one in which we have put in a lot of hard work, and also most extensive since independence," Shah said.
In a first, PM Modi also addressed the journalists gathered at the BJP headquarters in New Delhi. He thanked everyone and said that he was overwhelmed by the support he received.
PM Modi said, "Elections have been amazing (shandar). There will be a government with a full majority. During campaigning, I told the people of the country 'I am thanking you' for your support."
He added that the campaign for the elections was a success even though there was a lot of violence with the most recent being Amit Shah's roadshow in West Bengal which culminated into a riot with fights breaking out between BJP and TMC party works.
However, Modi was confident about winning the elections due to the campaign. He said, "The election campaign was a success. In the last two elections, even the IPL couldn't be held. When the government is strong, IPL, Ramzaan, school exams and others tend to take place peacefully."
"It will happen after a long time in the country, our government will come to power with an absolute majority for the second consecutive time," the PM added.
He also said, "The election results were out on May 16, 2014. A huge casualty took place on May 17 in the same year. Today is May 17. People in 'Satta bazaar' who used to bet for Congress to win in elections faced huge losses then."
While Shah took questions after the address ended, PM Modi was visibly silent.
When asked about Sadhvi Pragya's comments on Nathuram Godse and the three BJP leaders who endorsed her, Shah replied, "We have issued a notice to the three leaders. These views are purely independent and have nothing to do with the party. We have sought a response and will initiate disciplinary action accordingly."