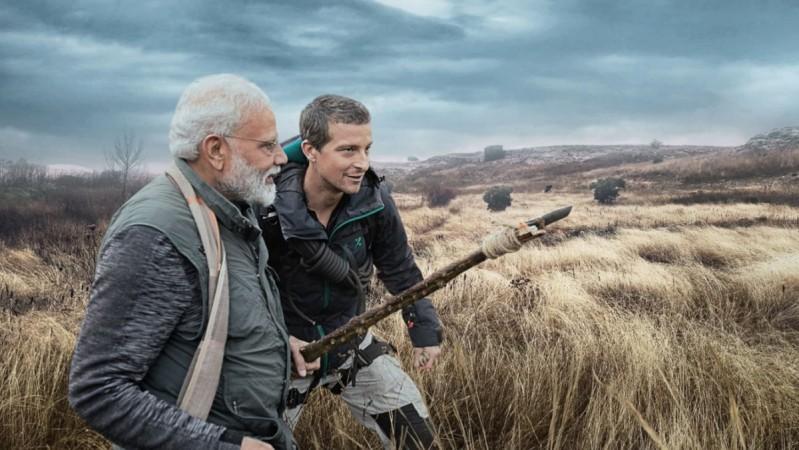 Prime Minister Narendra Modi will feature in the latest episode of adventure series Man vs Wild with host and adventurer Bear Grylls to create awareness about animal conservation.
The popular series by Discovery Channel will showcase PM Modi in a new avatar. He will be seen rowing boats and trekking at Jim Corbett National Park in Uttarakhand. British survivalist Bear Grylls' show will create awareness about protecting the wildlife and its importance in the eco-system.
In a statement, PM Modi said that the show is a great opportunity to present India's rich environmental heritage and to stress on the importance of environment conservation and living in harmony with nature. "It was a great experience spending time in the jungle once again, this time with Bear, who is blessed with indefatigable energy and quest to experience nature at its purest," he said.
The promo video of the episode showcases PM Modi welcoming Bear Grylls with a wooden weapon in his hand. He is also seen rafting across the streams with the adventurer. The series will be showcased in more than 180 countries across the world on Discovery Channel and the Indian premiere will be at 9 pm.
Grylls said that it was a privilege for him to take the Prime Minister on such an expedition into the Indian wilderness. "I feel truly honoured to get to spend time with this remarkable world leader. The wild reminds us that we need each other and that together we are stronger. I am so excited to spend time with the PM and to get to know the man who leads this great nation," he said, reports NDTV.
However, some politicians have taken a dig at PM Modi. Former Jammu and Kashmir Chief Minister and Peoples Democratic Party leader Mehbooba Mufti sarcastically commented from her twitter handle. "At the risk of sounding repetitive, the PM surely is a pioneer in innovative PR skills that seem to strike a chord with every generation," she said.
CPI(M) leader Kavita Krishnan attacked the prime minister. "Modi is helping his corporate cronies destroy wilds in India & Australia. He's enacting a law enabling forest officials to kill forest communities. He is a climate change denier. Plus he's a fascist. Shame you're letting him use you to cover all this up," she said.