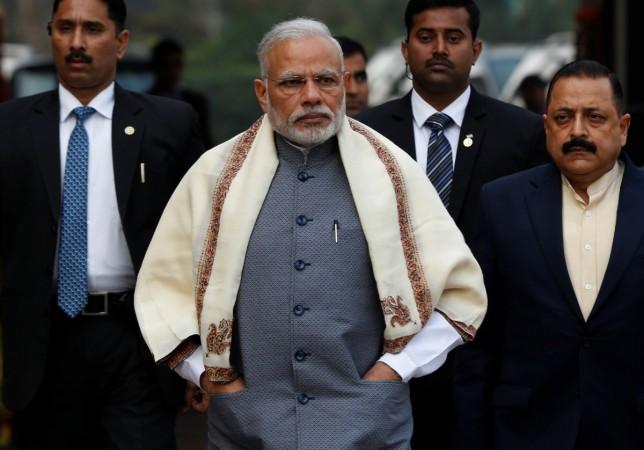 Prime Minister Narendra Modi on Tuesday announced Rs 500 crore for Gujarat for rescue work after an aerial survey of the flooded areas and Rs 2 lakh compensation to the kin of the 83 people who have died and Rs 50,000 to the injured.
Modi, who flew over Banaskantha, Sabarkantha and Patan districts of North Gujarat, said a team of the union Urban Development and Rural Development Ministries would visit the state to assess the extent of damage and suggest short-term as well as long-term measures.
The Prime Minister told reporters at the Ahmedabad airport: "In such situations, it is the farmers who suffer the most. Insurance companies may be advised to quickly organise assessment of damage to crops and assets of farmers and initiate immediate steps to settle the claims."
PM Modi was accompanied by Chief Minister Vijay Rupani and Deputy Chief Minister Nitin Patel during the aerial survey.
After holding a high-level meeting with Rupani and Patel, besides former Chief Minister Anandiben Patel and officials, Modi praised the Gujarat government for "rising to the occasion promptly and having already prepared a blueprint for the crisis".
The north Gujarat districts of Banaskantha, Sabarkantha and Patan have been flooded after incessant rains during the last 36 hours.
Tharad town has received maximum rainfall of 24 inches, followed by Dhanera 20 inches, Dantiwada 18, Palanpur 15, Deesa and Diyodar 13 inches each, Patan 12 inches and Vadgam about 11 inches.
The region has got 95 per cent of its seasonal average of 659 mm.
In all, entire Gujarat has registered 534 mm of rain, which is 66 per cent of its total usual seasonal average of 810 mm. "As many as three persons have lost their lives in last 24 hours in Banaskantha district," Patel said.
As many as 46,000 people have been moved to safety in Banaskantha district till Tuesday evening even as 1,000 persons have been rescued.
A total of 472 villages in the district are without electricity, with six national highways, 61 other roads and 287 panchayat roads closed for vehicular traffic.
Seventeen trains passing through the region to Delhi and north India have been cancelled, six terminated midway and two trains diverted. Over 300 buses too have been cancelled.
The Army, IAF, NDRF, police and fire brigade are engaged in rescuing people from flooded areas.
The Army on Tuesday rescued 113 persons. Efforts were on to evacuate 30-40 more from Sirohi and Jhabadiya village in north Gujarat, Defence Ministry spokesperson Wing Commander Abhishek Matimaan said.
IAF's four MI-17 V5 helicopters winched 14 persons from Deesa. They also dropped over 300 kg of food packets in the district.
"More than two lakh food packets have been sent to Banaskantha from other districts," Gujarat Principal Secretary Pankaj Kumar said.
As many as 38 of the 203 dams across the state are on high alert.
While Dholidhaja, Vansal and Nimbam dams in Surendranagar, Machchhu-1 and Ghodadharoi in Morbi and Kankawati dam in Jamnagar districts have received up to 90 per cent of their water storage capacity.
Twenty-three dams in Saurashtra, four in Kutch, four in central Gujarat and one dam in south Gujarat were full to the brim.
In Ahmedabad, which sees the Sabarmati river cut through the middle of the city, 5,663 people from 40 villages surrounding Gujarat's main city have been relocated and provided with food packets and health kits.
This is being done as water is being released from Dharoi dam across Sabarmati river in the upstream area about 60-70 km from Ahmedabad.
As must as 1.10 lakh cusecs of water has been released from the dam.
"We are ready for the situation and have deployed police and administrative personnel to aid people," said Mukesh Kumar, Municipal Commissioner, Ahmedabad Municipal Corporation.
Thankfully, the rains have taken a break in north Gujarat, helping to speed up rescue and relief operations. But the Met department has predicted heavy rains in Banaskantha, Sabarkantha, Arvalli, Mehsana and Patan for next 48 hours.