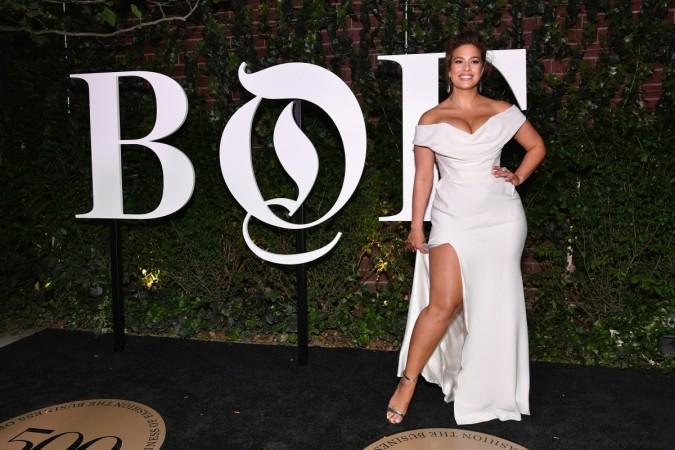 Ashley Graham has been accused of losing too much weight by fans after she posted a photo to her Instagram account. Followers of the 30-year-old plus-size model were outraged after she looked slim in a figure-hugging Prabal Gurung dress.
Ashley shared an image of her outfit she wore to Vogue Magazine's Force of Fashion summit on her social media account. She wrote: "Loved talking at the #ForcesOfFashion panel with @voguemagazine dress @prabalgurung"
One angry fan wrote: "Don't represent me anymore."
Another disappointed fan questioned: "Isn't she proud of her plus size anymore?"
However, few others supported her, one user wrote: "Skinny where? She's still curvy and just as beautiful. If you really supported her you would suppose her HAPPINESS not the size of her waist or a tag..."
Another fan shared: "People need to stop bashing her for losing weight, she looks amazing and beautiful no matter what"
Ashley seems to have ignored the backlash, and choose to keep silent about it. Meanwhile, during the event, Ashley talked about the challenges she faces in the fashion industry, even now.
"I can give you some measurements. 46-32-36. That's a lot of resistance, right? Every day still there's still resistance for curvy women in the industry, and there is tokenism for curvy women in the industry," she said.
"It has become so much more normal, but I've had people tell me, 'You need to lose weight,' or that the 'clothes don't fit you, so we're not shooting you.' And this still happens, even on set. I just shot an editorial about four months ago and the creative director told me if I just lost this [weight] right here and then, I would fit into these certain brands of clothes. I was like, 'You know that's not going to happen right?' All this right here is a part of me. You still have to fight every day. Resistance is just a part of my career and that's why I fight so hard and call myself a body activist," she added.
Adding on, she applauded social media's power in creating diversity in the fashion field. She shared: "Just being in the industry for so long, I have never seen diversity catch fire the way that it has now. Just this last fashion week, there was the highest number of black women and curvy women [on the runway] and the number of trans models was high, the number of hijab models."
"It's impressive that because of the numbers on social media, fashion has actually begun to take in to consideration what everyone actually wants. Everyone who has given the commentary, saying, 'I want to see myself,' now fashion designers and big publications are actually listening," she went on.