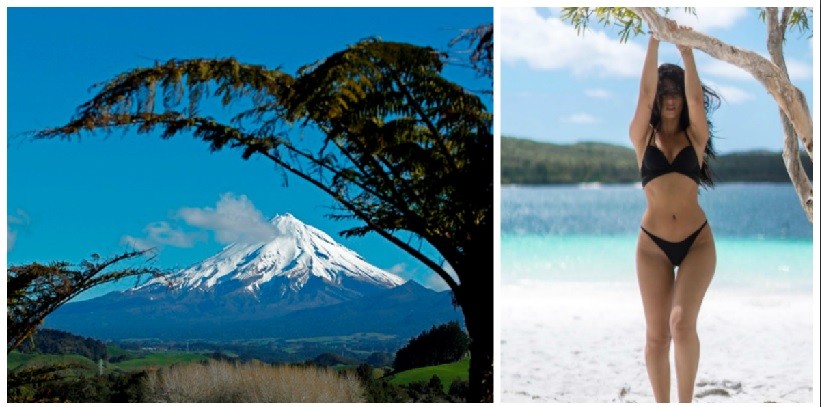 A Playboy model from New Zealand infuriated local Maori community when she posted on social media a nude photo taken on the top of Mount Taranaki.
Also read: Demi Moore suffers wardrobe malfunction at Jennifer Meyer's 40th birthday party
Jaylene Cook, 25-year-old Playboy Playmate, and her photographer boyfriend Josh Shaw, had hiked up Mt. Taranaki on April 26. There the model bared it all to strike a pose in front of the camera and later took to Instagram to share the picture.
The inappropriate picture caused furore amongst the local Maori tribe as they consider the volcano as the burial ground of their ancestor.
The model captioned the picture, which garnered her more than 10k likes: "WE DID IT!! This was BY FAR the hardest thing I have ever done! Both mentally and physically. 2 minutes out of the car park I was already hurting, sweating and ready to turn back But it's amazing what you can accomplish with the encouragement and support of your partner! I could not have done this without you babe @thejoshshaw!"
She further continued, "This climb has forever changed me. I proved just how far I could push myself and I am truly proud of my accomplishment. This mountain was steep, rugged, ever changing and just pure brutal! Safe to say, I will never do it again."
According Stuff.co.nz, Maori academic Dennis Ngawhare said that members of the community are really offended by Cook's behaviour. "I'd imagine you will be getting a few comments from people saying what's wrong with that? Who cares? But I also know cousins and relatives who will be quite upset about it. They would consider it as being disrespectful towards the mountain," he said.
"I accept people climb up to the summit, but what we do ask is that people be respectful," Ngawhare added.
In the meantime, claiming the image "natural and pure", the model told stuff.co.nz, "The photo is not crude or explicit in any way. We made ourselves knowledgeable on the history of the mountain. We were quite respectful."
"Being nude is not something that is offensive in any way. It's natural and pure and it's about freedom and empowerment," she added.
Further commenting on the issue, the Playboy model also told Daily Mail Australia that she is not even surprised that the picture drew a lot of flak. "It's just point of view. We believe that we were very respectful, we were picking up others people's rubbish that was left up there and we made ourselves aware of the culture."