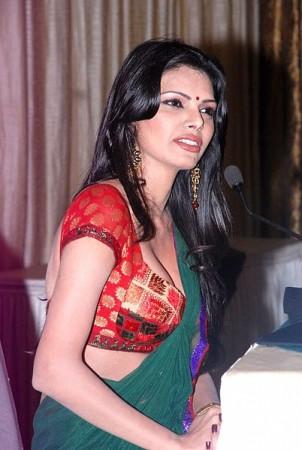 Model-turned-actress Sherlyn Chopra will be the leading lady in Rupesh Paul's upcoming movie "Kamasutra 3D".
The 28-year-old actress, who posed nude for cover page of international magazine Playboy, confirmed the news maintaining that the filming of "Kamasutra 3D" will not contain vulgarity. Chopra has uploaded the teaser of the film recently.
"Kama Sutra is nowhere close to vulgarity. Nudity is not vulgar. It is a form of art and an expression of the mind. I am considered to be a bold personality but I know this film is going to change perceptions," The Times of India quoted Chopra as saying.
Director Paul had earlier announced the film during the premier of Hollywood venture "Saint Dracula 3D" at the Cannes Film Festival. "Kamasutra 3D" will be Paul's second undertaking.
The Kerala-born director also affirmed that "Kamasutra 3D" will have nothing to do with pornography.
"India is known as a land of Kamasutra. The epic erotica is as significant as Gita or Ramayana. It is not just about sensuality and eroticism. It is a struggle of human mind to understand one of the most important areas of life. It is pathetic to relate this ancient scripture to porn.
"If you go to Paris, every coffee shop will have an abridged version of Kamasutra. The ancient scriptures are read and appreciated by millions of people abroad and we never owned it. It is such a shame", Daily Bhaskar quoted Paul as saying.
According to reports, the film will be premiered at an international film festival in 2013. Keeping in mind the tribulations picked up during the shoot of Mira Nair's "Kama Sutra - A Tale Of Love", "Kamasutra 3D" will be shot at a closely guarded place.